Pricing
We strive to build an eLearning solution that meets and exceeds the learning needs of each Brainier Customer.
Brainier Express
---
Optimized for small businesses
(1-25 employees)
100% Cloud-Based
SOC 2, Type II Security
Responsive UX
Easy User & Group Management
Bulk User & Group Import Tools
Learning Object Management
Import SCORM/AICC eLearning
Manage Instructor-Led Training
Document Libraries
Link to External Learning Content
Create Quizzes, Surveys,
Curricula & Success Tracks
Log Completions Wizard
Express Assignment Wizard with
Due Dates & Reminder Emails
Powerful Reporting Suite
Learning Analytics
Static Canned Reports
Custom Report Builder
Action Log Audit Trail
Search-Based "Smart Reports"
Globalization Support with 15
Languages Out-of-the-Box
Off-the-Shelf Content Options
Brainier Experience Customer Portal
Contact For Pricing
Brainier LMS
---
Everything in Express
PLUS
Custom Branding, System
Labels, and Themes
Advanced User & Group Profiles
and Management Tools
Multitenant Group Structures
& Unlimited Custom Roles
Automated On-Boarding with
Bulk User & Group Sync
Advanced Learning Object Management
Integrated Video Platform
with Unlimited Storage
Behavioral Evaluations with
In-Person or Virtual Signoff
Integration with Third-Party
Virtual Meeting Software
Built-In "Brainier Meet" Virtual
Meetings with Screenshare
Bulk Record Import Tool
Advanced Assignments with
Grandfathering & Recurrence
Data Visualization, Advanced Export,
and Debug Reports
Gamification, Custom Badges,
Points, Ranks & Leaderboard
Social Learning, System Messages,
Forums & Discussion Boards
Real-Time User & Group Chat
and Video Chat
Custom Pages, Certificates,
Transcripts & Email Templates
Brainier Native Mobile App
with Push Notifications
Turn-Key & API Integrations
SAML 2.0 Single Sign-On (SSO)
Included Content Libraries
Dedicated Project Manager &
Support Team for ALL Users
Contact For Pricing
Brainier Enterprise
---
Everything in LMS
PLUS
White-Labeling
Premium Content Creation &
Authoring with Chameleon Cloud
Advanced eLearning Tracking
with xAPI & cmi5
Ecommerce Module &
Integrated Shopping Cart
Advanced Gamification
with Bunchball Integration
Advanced Talent Management Integration
Barcode Management & Badge
Scanning in Brainier Mobile
Advanced Elan REST API
Invitations to Product Development
Focus Groups
Custom Database Administration Services
Custom Content Development Services
Premium Support & Managed Services
Contact For Pricing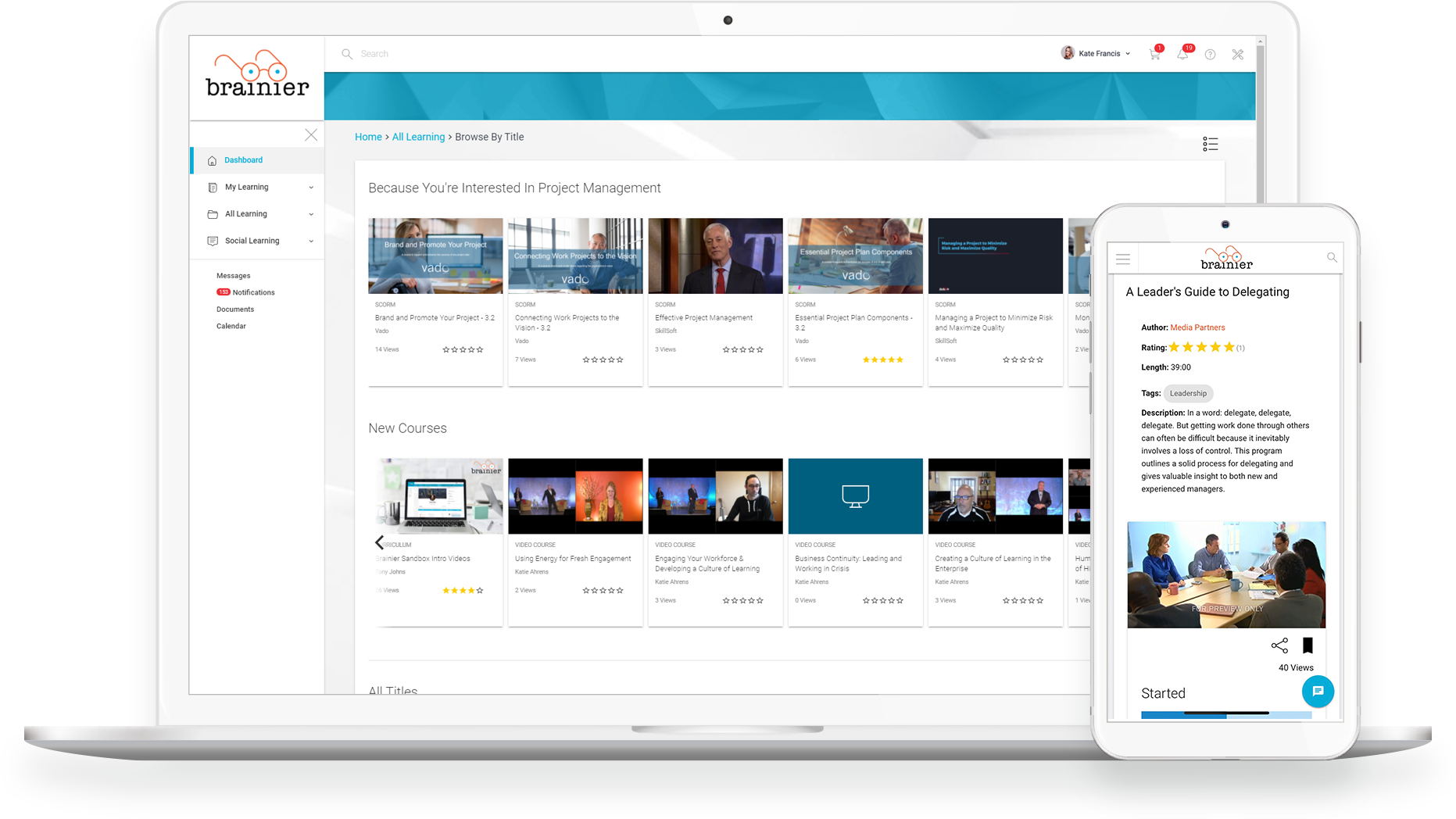 Hours of Built-in Learning Content
Topics Include:
Anti-Harassment Compliance
Customer Service
Working From Home
Leading Virtual Teams
Technology
Safety Training
Business Writing
Developing Soft Skills
Management
Leadership
Mentorship
Industry-Leading Content Providers
Streaming Video Content
And Much More!
Ready to find out more?
Find out how The Brainier LMS can make learning a differentiator for the future of your organization. Get a personalized demo of the solution that addresses the specific needs of your business.