Video Coaching
Elevate your assessments to fully engage your learners with video coaching, structured practice, and feedback.
Now with "AI Coach!"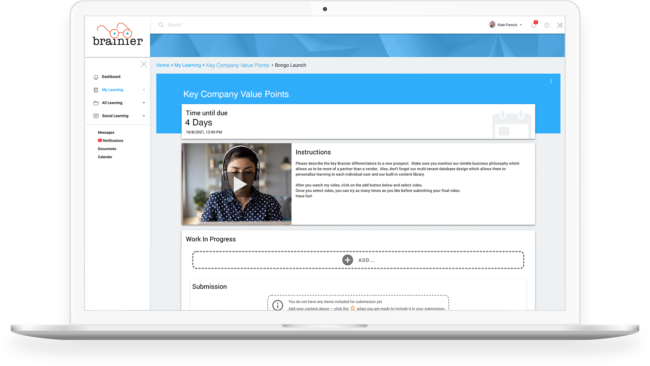 It's Time To Assess Competency Through A New Lens.
Video coaching in The Brainier LMS enables experiential learning and soft skill development at scale. Through 3 structured workflows, organizations can deliver spaced skill practice, personalized feedback, and the application of knowledge within a real-world environment. When individuals show what they can do on video, evaluators get an authentic representation of their comprehension level.
3 Assessment Workflows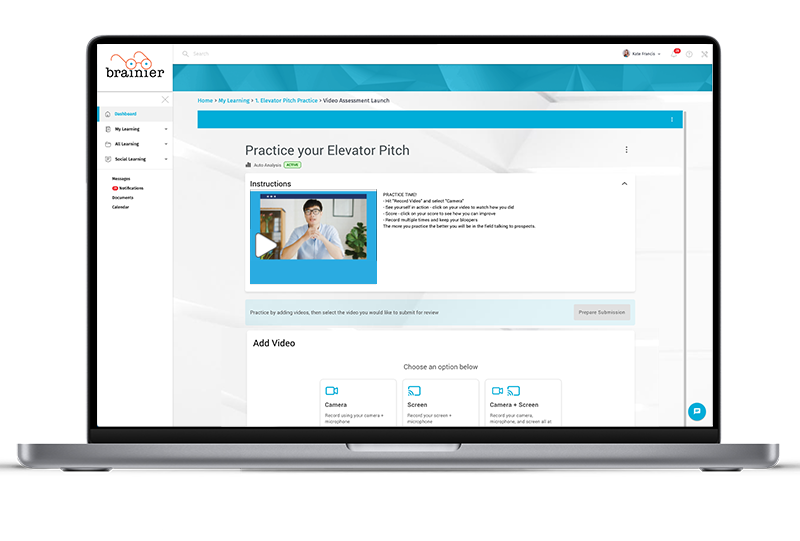 1. Individual Project
Individuals build critical thinking and communication skills as they continuously practice, self-assess, and deliver video presentations. This provides a safe space for individuals to develop new skills or to demonstrate their mastery of them. This workflow offers the learner the opportunity for repeated skill practice combined with multiple feedback channels including self-assessment, peer review, managerial review, and now AI-generated feedback.
The Learner Experience:
Learning leaders create a video coaching object in The Brainier LMS and assign it to an individual or group of learners. This asynchronous learning assignment allows the learner to demonstrate their knowledge or skill on their timeframe, practice and review their work, and finally submit their best performance. Learners are offered immediate feedback through AI-Coach, to independently assess their performance based on key metrics and tonal analysis. Additional layers of feedback are available after submission.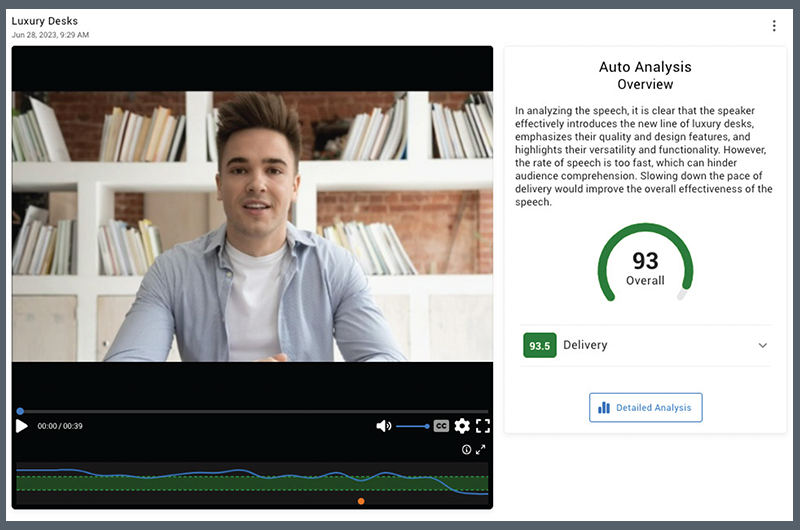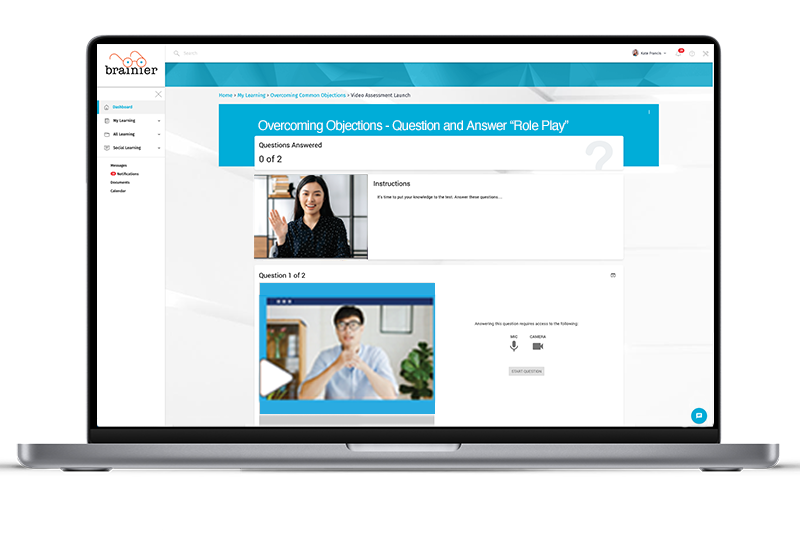 2. Question & Answer
Test a learner's readiness with a role-play style question-and-answer workflow. Learners are given questions and asked to respond in a limited amount of time. This asynchronous learning workflow provides an assessment of their knowledge and performance with real-life scenarios.
The Learner Experience:
Learning leaders create role-playing workflows to assess the knowledge and preparedness of learners using prompts. These could be video-based questions or scenarios that require learners to respond with their video-based or simply audio-only answers. The submission process follows suit, where learners can review their answers and receive feedback from AI Coach, peers, or a manager.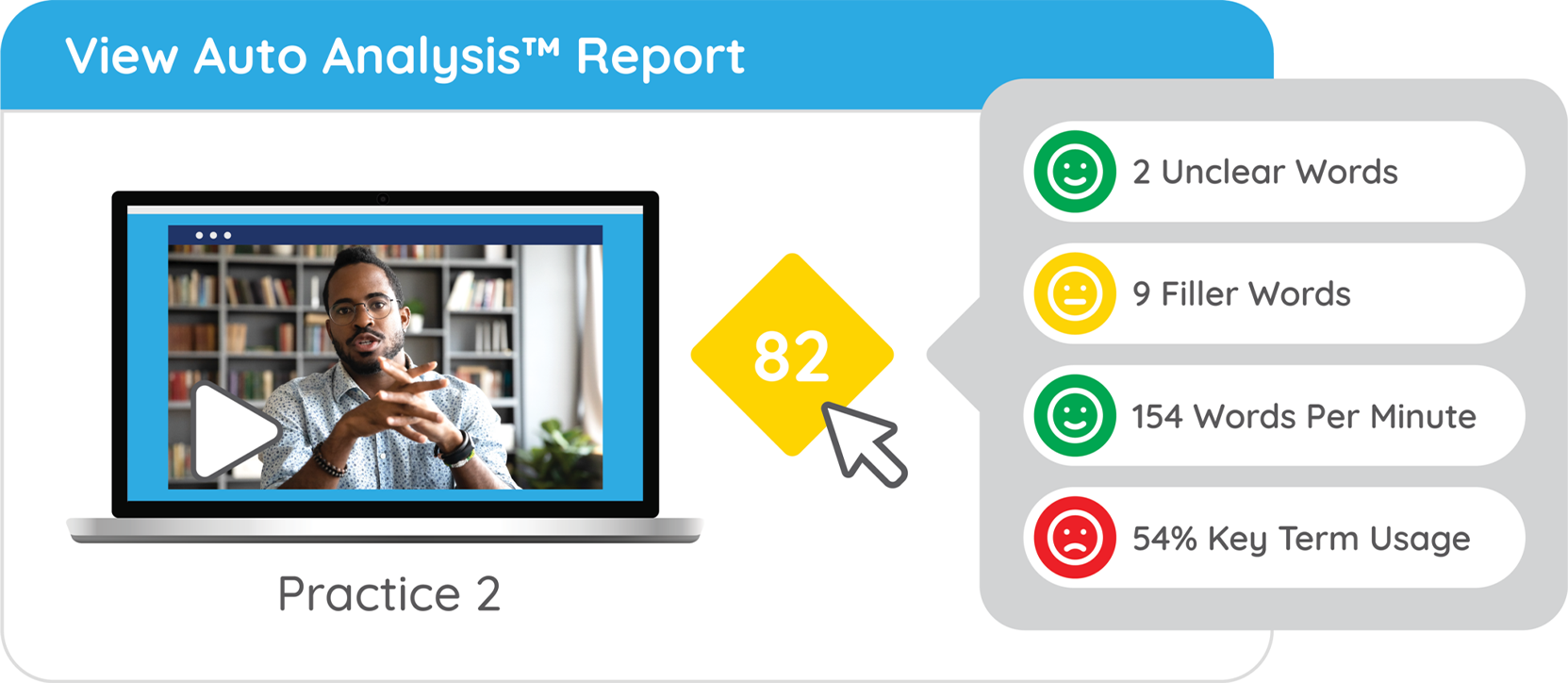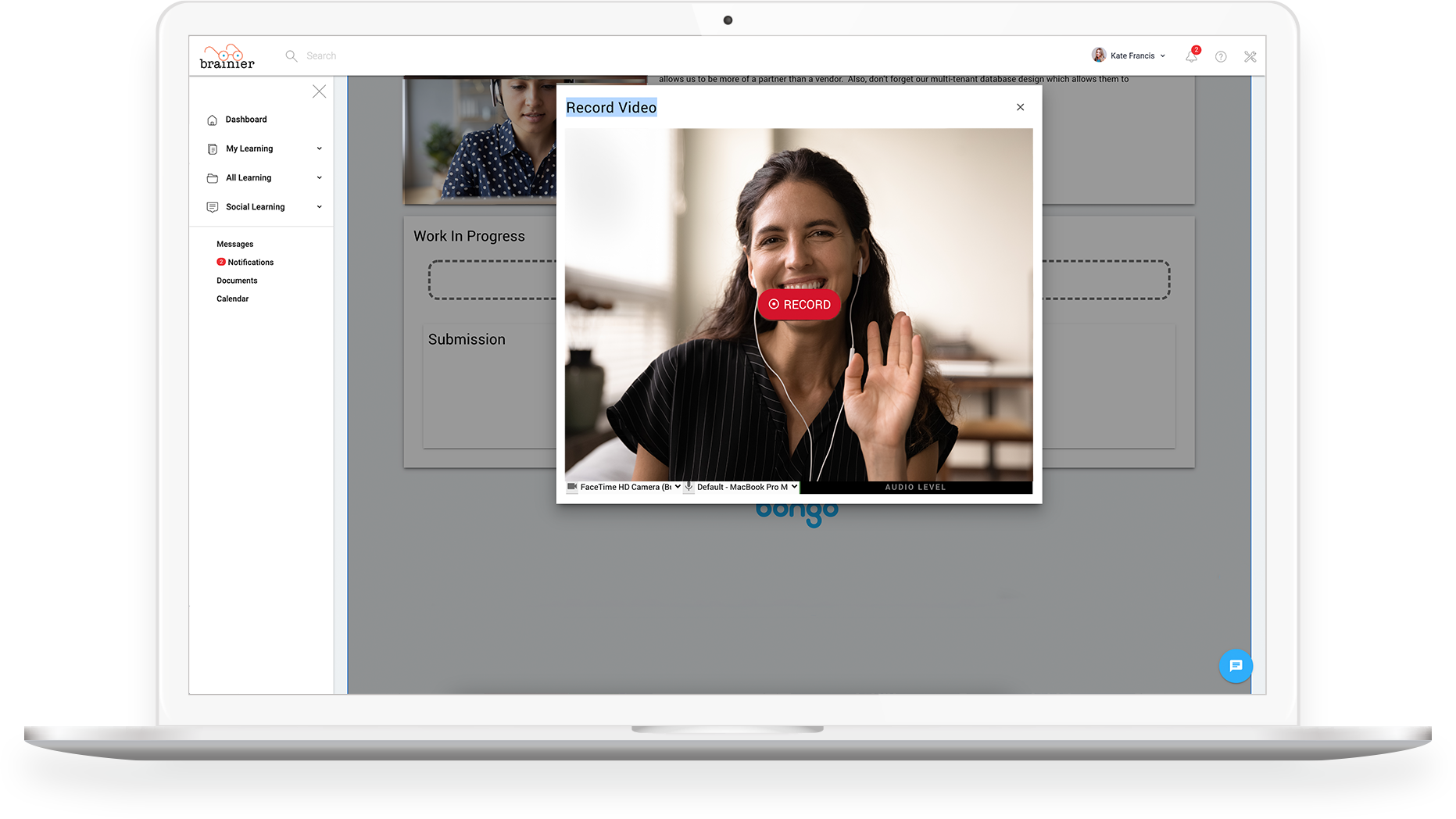 3. Interactive Video
This is a next-generation way to boost engagement in learning content. Learners are served with questions at key moments as they progress through a learning object. They could be asked to answer multiple-choice questions or to answer video-based questions at crucial points throughout a video. This activity tests more than just retention and recall, but comprehension, as well. Video-response prompts also help individuals develop communication and critical thinking skills as they observe, analyze, and respond.
The Learner Experience:
Learning leaders create interactive elements for new or existing learning assignments that use video. At key points throughout the video, they can include multiple choice questions or even video answers that the learner must complete to continue. This boosts engagement rates and minimizes the "tune-out" factor.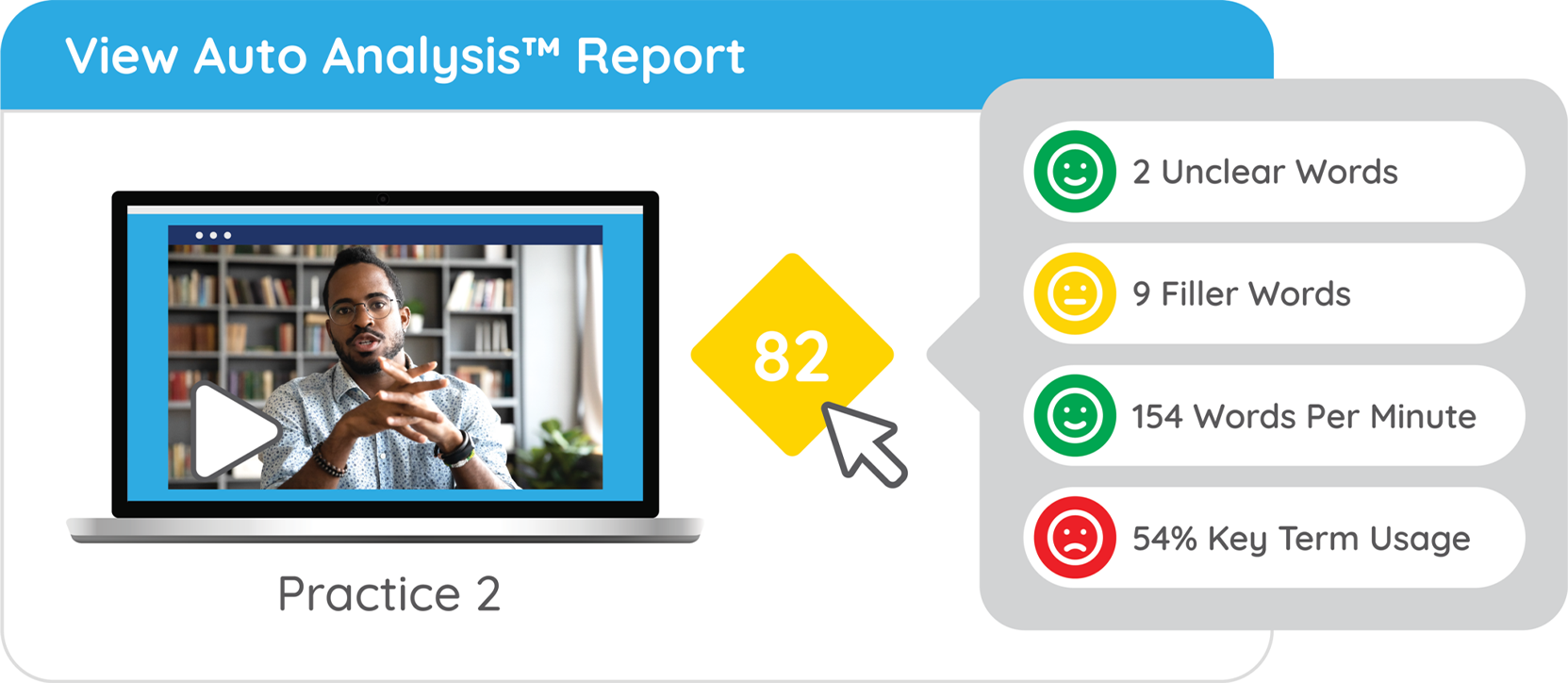 Evaluation & Feedback
Learner feedback can also be streamlined using Auto Analysis™, an automated reporting feature that provides deeper insight into an individual's performance and progress. By generating metrics around the rate of speech, speech clarity, use of filler words, keywords, and negative keywords, Auto Analysis gives individuals a better sense of what to focus on as they practice and self-assess, and helps evaluators save time by identifying potential problem areas faster.
Key Metrics Include:
Rate of Speech
Speech Clarity
Use of Filler Words
Custom Content Targets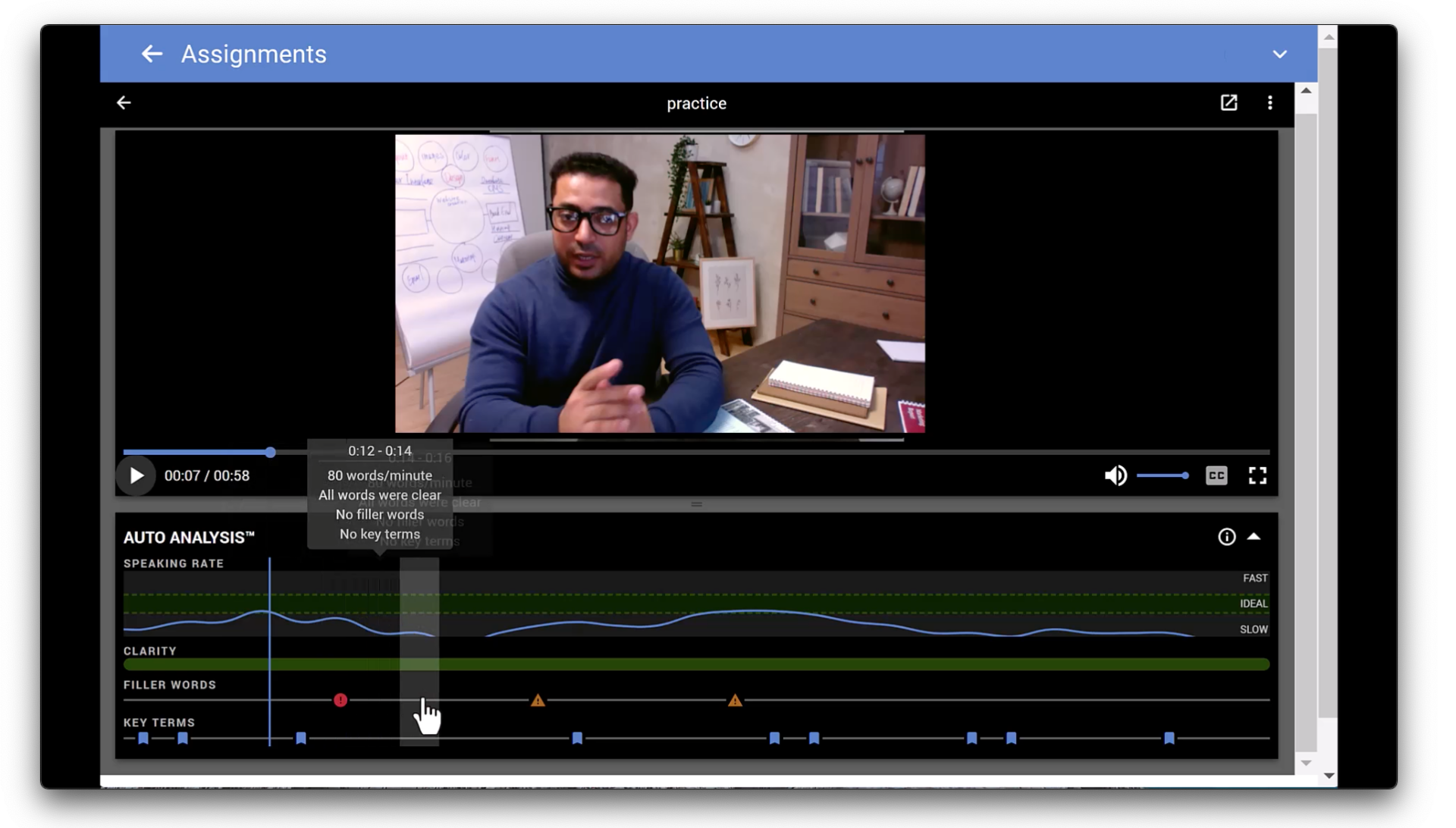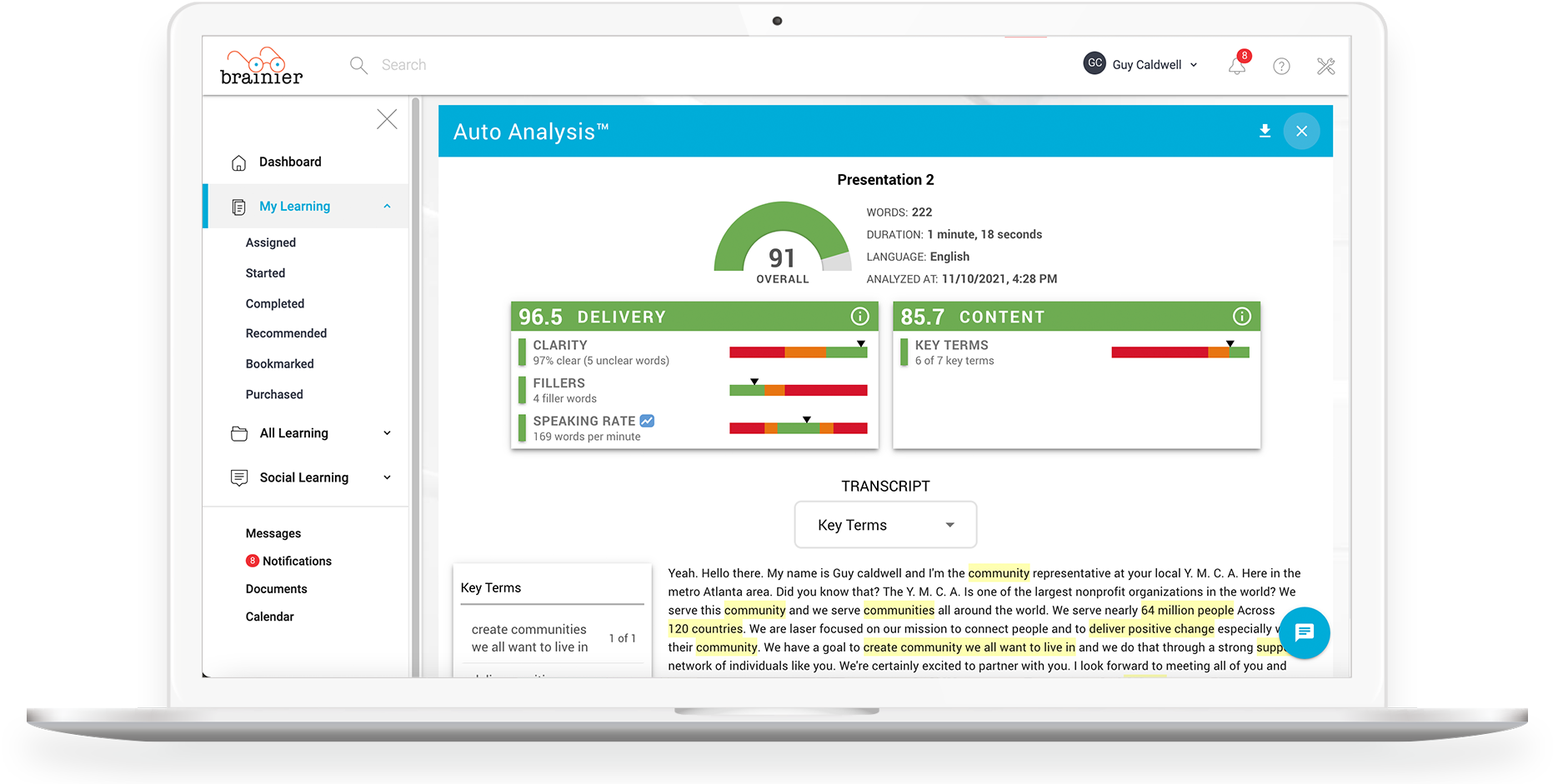 For a closer look at Video Coaching, check out this short video:
Ready to find out more about Brainier?