eBooks
Thoughts on learning and development strategy, tactics, and how to use eLearning technology to drive change.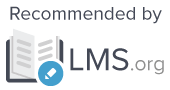 Brainier LMS Review by LMS.org
The minds behind Brainier listened to the needs of users and developed a system that caters to almost everyone. Create branded login pages with logos and more. The system supports multi-tenant access so users can establish separate areas for customers, employees, or partners. Build custom groups, incorporate social learning, and keep users motivated with gamification. Brainier brings new levels of innovation and flexibility to the LMS table…
Try Brainier today!
Test drive our unique cloud-based learning management system today.