4 Trends in Employee Learning and Development
Looking At Trends in L&D (Beyond Generative AI)
What a wild time it is in Learning and Development right now! Just like in nearly every other industry, L&D has undergone a profound transformation due to recent significant events such as the pandemic, the surge in remote work (and gradual return to the workplace), heightened expectations of the employee experience, and the overwhelming interest in artificial intelligence (AI).
Amidst the whirlwind of these events, there are four key trends that seem to capture the attention of learning leaders: a stubbornly uncertain economy, the next wave of inclusion, blended learning delivered more efficiently, and the "headless" LMS. Through these emerging trends, it is evident that if learning leaders wish to find continued success in their L&D programs, they must remain committed to placing personalized experiences at the forefront. Now is the time to make learning even more personalized, relevant, and accessible.
Download this free eBook to find out how.
In this eBook, we focus on significant trends driving change in L&D. Topics include:
How Generative AI plays a role in L&D
Ongoing challenges in an uncertain economy
How DEI&B is evolving
Taking a blended learning approach
How LMS companies are going "headless"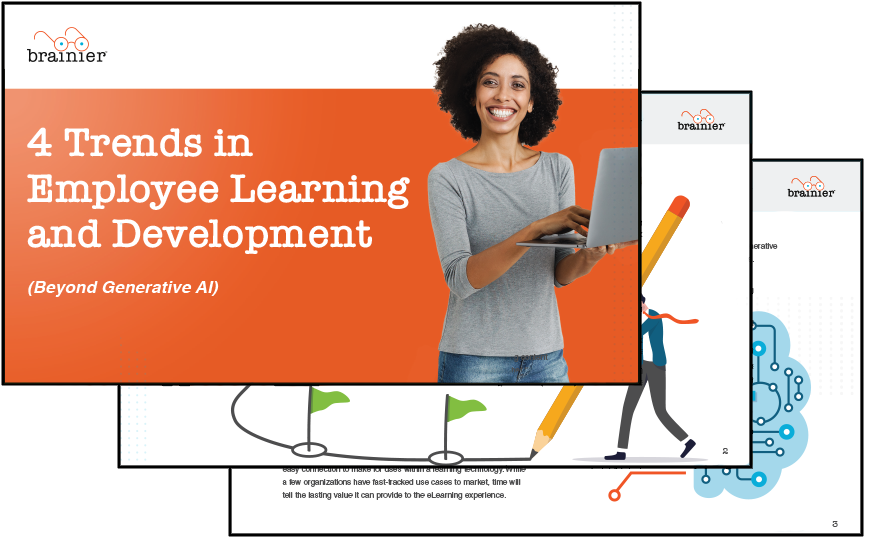 See how The Brainier LMS can help your organization keep up with ever-changing trends and employee expectations with a personalized demo.