Effective Employee Training
Learning plays a crucial role in every organization, both formal and informal. Help your employees reach their full potential with The Brainier LMS.
How Brainier Helps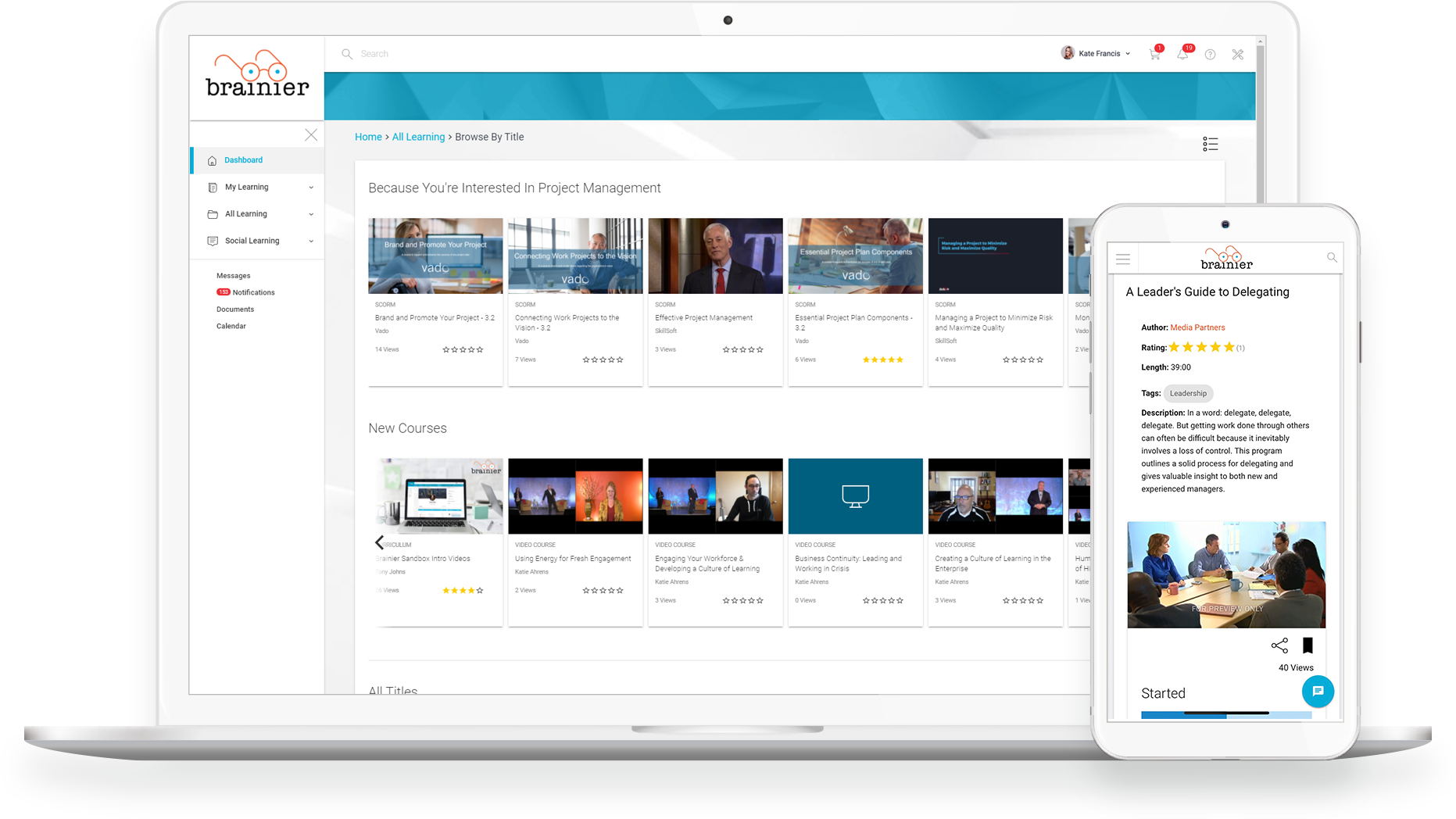 A Personalized User Experience
The learning process is inherently a personal experience. Opening the mind to new information and creating change from within oneself is not always easy. Learning and development at scale is even more complex. Organizations can ease the learning process by creating personalized learning experiences within The Brainier LMS. Learners have direct control over the look and feel of the interface.
Learners have the power to customize their learning dashboard, showing only the relevant data they wish to see. Using built-in gadgets, learners can arrange and prioritize their activities in the LMS, including assigned, in-progress, completed, and optional training. This could include eLearning video courses, evaluations, quizzes, and even sign-up for live and virtual events directly in The Brainier LMS. Learners can access training with full globalization, in their preferred time zone, language, and time formats.
The Brainier LMS goes further with machine learning, recognizing trends in the learner's interests and recommending additional relevant content. Employees can browse their suggested content or pursue tailored recommendations with the All Learning search option – developing their knowledge with the organization's existing libraries.
Administrators can customize the branding of pages with the LMS, including managing company logos, themes, colors, and even the system labels. Organizations that maintain multiple brands or divisions can match the look and feel of that segment of the group for the learners that comprise it. Specific groups can even have their own terminology for the navigational menus to mirror their working experience.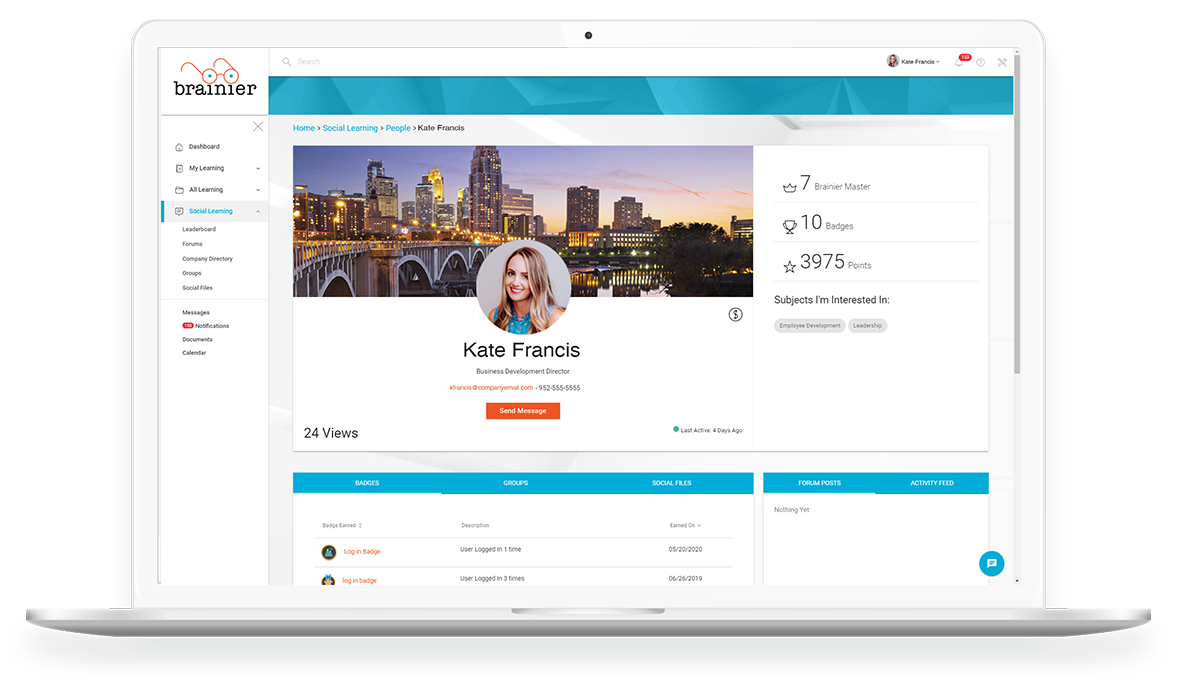 Creating a personalized learning program for the individual further helps to engage the learner. Administrators can browse from the built-in library of existing resources to create a personalized learning program and help close any knowledge or skills gaps for employees. Additionally, any (and all) existing learning content can be upcycled by adding to the learning library or updated using our custom content authoring tool, Chameleon Cloud.
The Brainier LMS maximizes efficiency and customization, boosting employee engagement, performance, and participation with learning tech that works best for every learner.
Personalized Learning »
Gamification
The Brainier LMS includes gamification features intended to act as behavioral nudges to engage learners. When training programs offer fun and engaging processes, learners gain more from every video, quiz, and educational tool.
Employees are encouraged to earn points, level-up on a group or company leaderboard, achieve ranks, earn animated badges, and engage in friendly competition as they excel within their learning and development activities. These learning programs based on rewards and recognition aids with:
Providing a positive impact on knowledge acquisition and retention.
Increasing learning enjoyment and connection within company culture.
Improving motivation to complete employee training program activities.
Creating an engaged and positive learning environment.
Administrators can create custom badges and ranks to recognize and reward highly engaged learners and can also be linked to an existing rewards and recognition program. This effective training method can be customized and configured along company skill development desires – with monitoring and rules established by administrative personnel.
Supporting your employees' development may be benefited by a friendly competition within your learning LMS structures. Maximize commitment, participation, and fun with a development program designed to encourage employee engagement with the completion of every training session.
Gamification »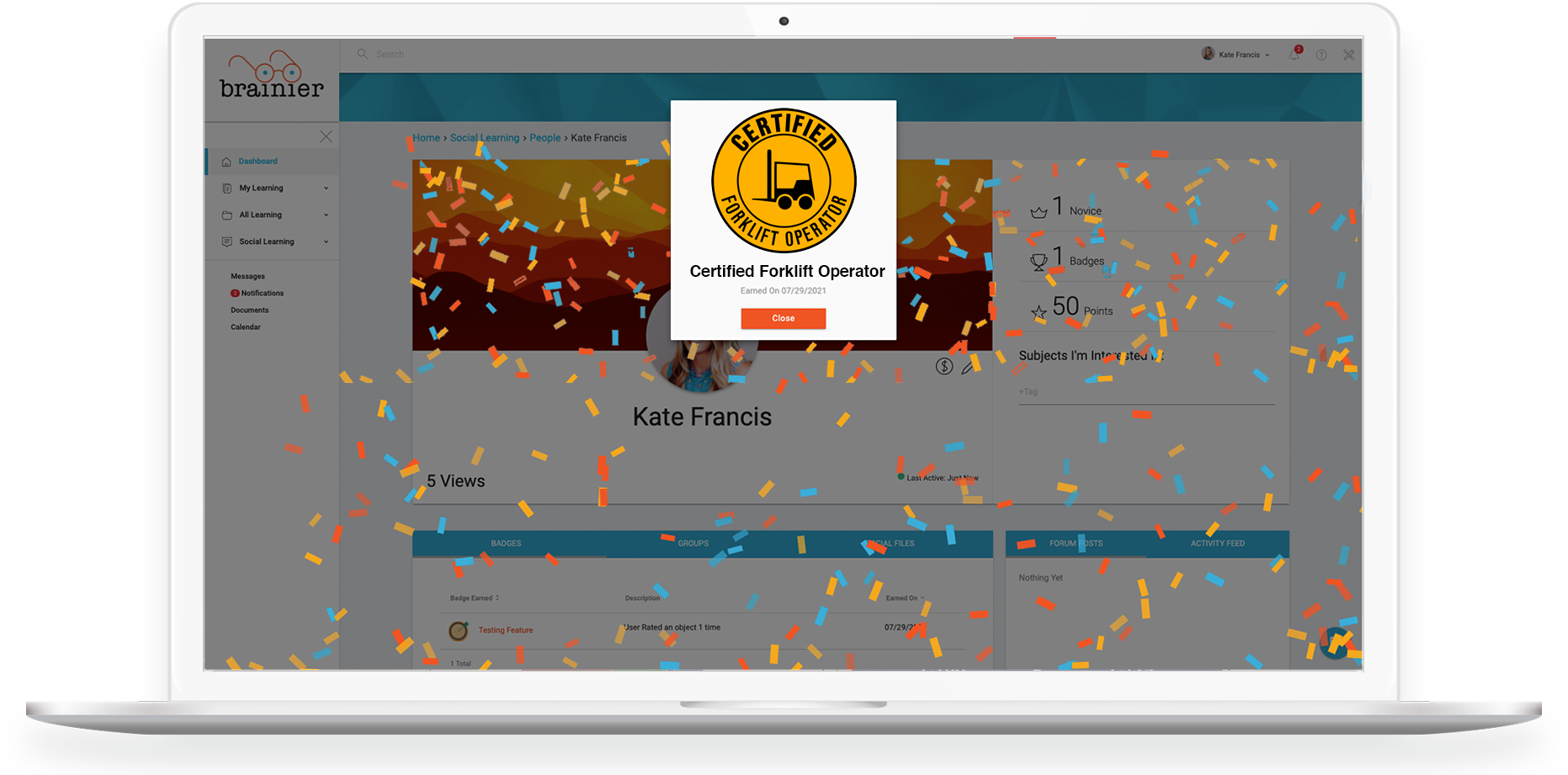 Work Science Software Integrations
Managing employee data can be a complicated issue, especially as organizations scale. The Brainier LMS has the power to function as a stand-alone product for the organization's learning needs or to integrate with the existing work tech stack. Brainier offers many off-the-shelf software integrations that can leverage employee data to efficiently operate between systems. Using APIs, these connections pull employee data from an existing system into The Brainier LMS to auto-populate learners and carry out ongoing updates. Data can also be pushed back into other systems from Brainier to provide updates on learning data. Data integrations like these deepen the relationship and incorporates ongoing learning into an employee's day-to-day working experience.
Benefits of integrations with The Brainier LMS often include:
Single sign-on capability
Incorporation of existing data and learning modules
Video, calendar, and scheduling integration
And much more
Brainier Partners »
Boosting Learner Engagement
One of the biggest hurdles to overcome in learning is answering the question: "what's in it for me?" Motivating employees to dive into a learning assignment can be difficult unless they understand the "why" of that assignment. Demonstrating both the personal benefit as well as how learning helps the organization is a great way to boost learner engagement. Administrators can create personalized learning environments for employees, branded to feel like a natural extension of the organization's brand. Customizations like these as well as dedicated landing pages within the LMS help to direct web traffic and reduce confusion for the learner.
Administrators can help to boost learner engagement by crafting personalized learning programs for employees. Learning leaders can choose from a built-in course library to curate relevant content to help close any knowledge or skills gaps. Learners can further engage through collaborative channels like mentoring programs, discussion groups, and video check-ins through Brainier Meet, the native communication app. In addition to eLearning content, The Brainier LMS offers several ways to incorporate person-to-person training and communication.
When learners are full participants in their own education it often signals a boost in employee morale and job satisfaction. Personalizing the learning experience for each employee contributes to an engaged employee. Eliminating learner apathy may seem like a distant dream but armed with a robust and customizable learning solution like The Brainier LMS, that dream feels much closer to reality.
Boosting Learner Engagement »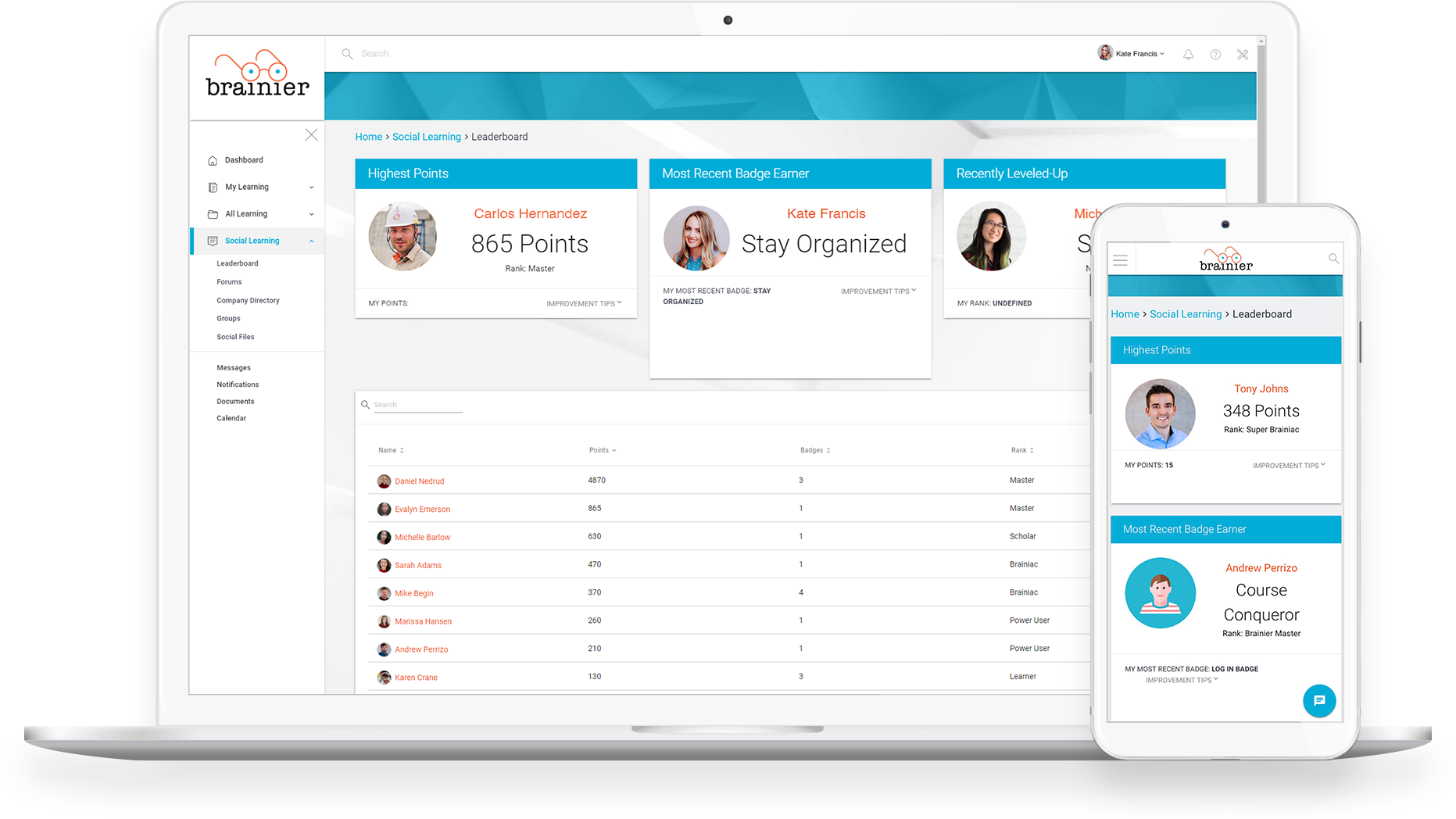 Administrative Ease
Effectively managing learning and development for the entire organization requires a robust yet flexible system and efficient way to automate tasks and reports, and meaningful oversight of all activities. The Brainier LMS ensures that Human Resources teams of any size can deliver, manage, and track learning objectives for every employee. This process is easier than ever because each level of management has access to oversight on learning activities. Using built-in analytics tools and process automations, administrators can manage L&D efforts for an entire organization, even as it scales.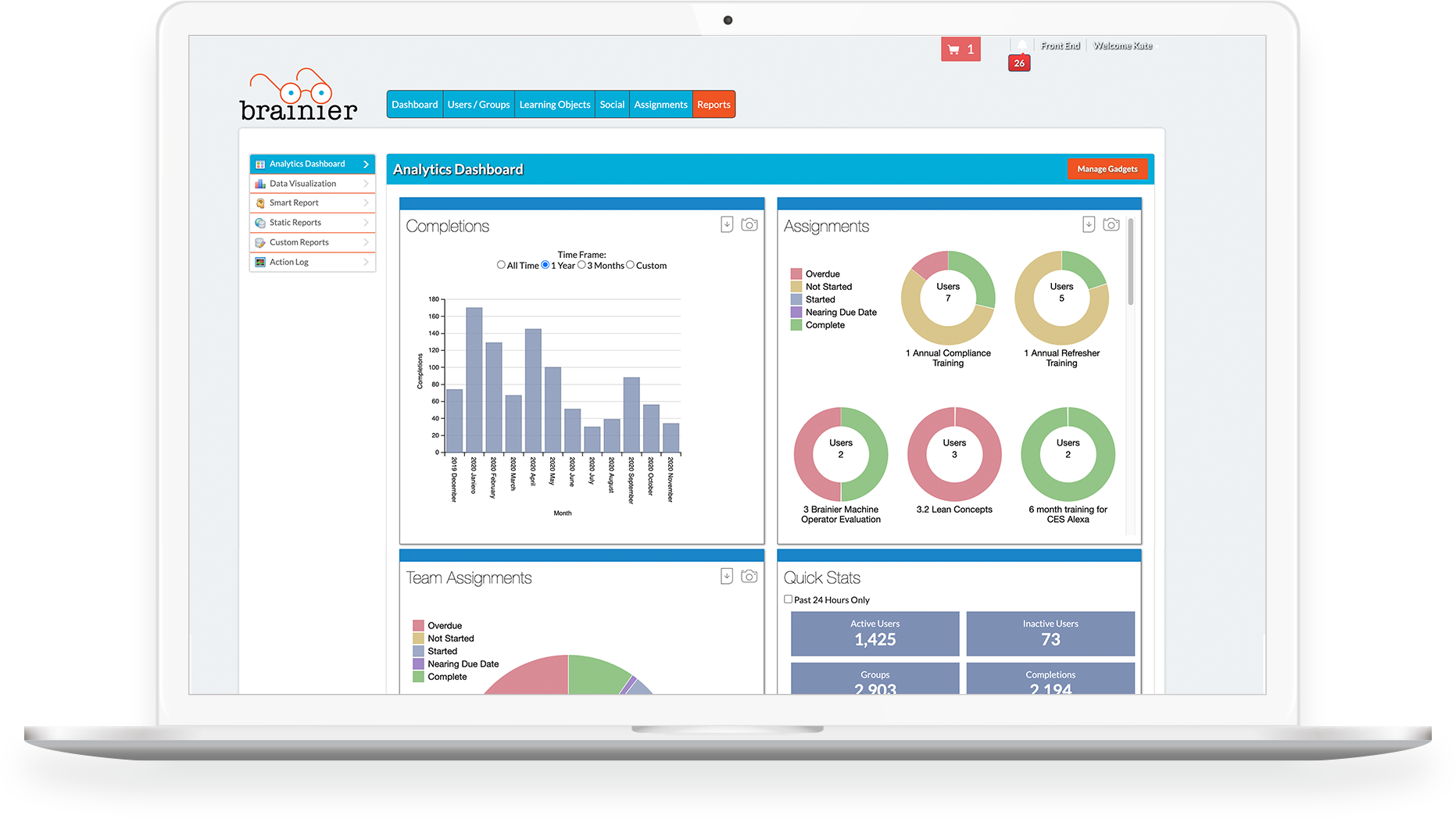 Administrators can create custom groups to best suit the needs of the organization. Beyond simple reporting structures, learners can belong to any configuration of groups to create meaningful cohorts. Reshaping and reassigning groups is easy when the learner needs change. Brainier customers rely on built-in learning analytics to help determine strategy, pinpoint areas of change, and identify shining stars in the organization.
As the organization grows and employee learning needs change, Brainier can help to swiftly respond to ongoing changes with efficient ways to deliver, manage, and track each learning objective.
Learning Analytics »
Develop Learning Tracks
Learning and development doesn't end once employees have completed the onboarding phase. Organized learning tracks like the onboarding experience are extremely valuable to a learning program to prepare an employee for a new role, process, or stated development goal.
Beginning with embedded self-assessments, learners can level-set their knowledge, skills, and interest in a particular learning program. Learning tracks can contain a collection of assigned training relevant to that topic. These learning tracks can be automated to assign the next step once a task has been completed so that learners follow a sequential path.
This way, learners won't feel overwhelmed by a mountain of tasks laid out in front of them. Learning tracks can also utilize various methods of learning such as in-person workshops, reference files, or online training paths depending on learner preferences.
Brainier Cultivate »
Brainier's Unique Approach to Employee Growth and Skills Development
See How The Bosselman Enterprises Manages Learning For Their Employees.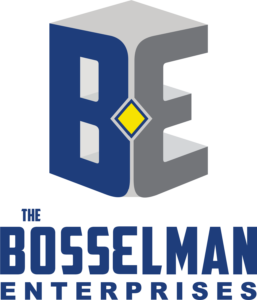 "We had field employees test-drive several LMS products that we were considering, and unanimously, Brainier was the choice for ease of use."
Robert L. – G2.com, June 10, 2020
Ready to find out more about Brainier?
Begin your employee training journey with a learning solution designed to handle every aspect of your development needs. Find out how Brainier's award-winning, 4th-generation LMS can make learning a differentiator for the future of your organization. Get a personalized demo of the solution that addresses the specific needs of your business.
FAQs
What is employee training and development?
Employee training and development refers to the popular practice of helping employees gain and build skills. It can take many forms, from online training to in-person coaching and mentoring. When effectively done, employee training can lead to numerous benefits for employees, teams, and the organization, as a whole.
What are the benefits of employee training?
Employee training can build skills that employees can then gear towards making a company run more efficiently and effectively. Businesses that invest in employee training often see better employee retention, while morale, soft skills, and company culture also improve.
What are types of employee training?
There are endless possibilities when it comes to employee training, including – but not limited to:
Compliance training
Diversity training
Harassment prevention training
Skill gap training
Customer service training
New employees onboarding training
Leadership training
Innovation and strategy training
And much more!
What is the purpose of employee training?
Businesses hire employees based on the skills they bring to their interviews, but with shifting market and operational demands – or simply with new company endeavors and direction – employee training is the solution to these needs.
With a well-developed LMS, employee training can bring waves of benefits to businesses in numerous areas. Each employee, when given the opportunity to develop, can add to company goals and broader business objectives.