Why Nonprofits Are Seriously Interested in eLearning Tech
Why The Time Is Right For Nonprofits To Do More With Learning Tech
Nonprofits, like many other kinds of organizations, have accelerated their interest in eLearning technology (specifically, learning management systems) as more employees shift to remote workers. Contributing to this need for better eLearning tech may be higher demands for special requirements and regulations. The challenges nonprofit organizations face are often similar to that of for-profit organizations, but nonprofits do face some unique additional challenges.
The first step to overcoming these challenges is to recognize potential obstacles and be prepared for them. By nature, every new expense for a nonprofit is examined by how effectively it contributes to "the mission" of the organization. A few of these obstacles include achieving management buy-in, showing value in eLearning tech year-over-year, and how technology can help retain employees. Empowering your learners with a robust LMS and aligning your learning programs with the greater organizational objectives can make all the difference when tackling these challenges.
In this eBook, we focus on how nonprofit organizations have been turning to eLearning technology to overcome recent challenges. Topics include:
Cultural differences in nonprofits
Using learning tech to adapt and thrive in a nonprofit world
Ongoing challenges nonprofits face
Why attitudes are changing
Moving into the future with confidence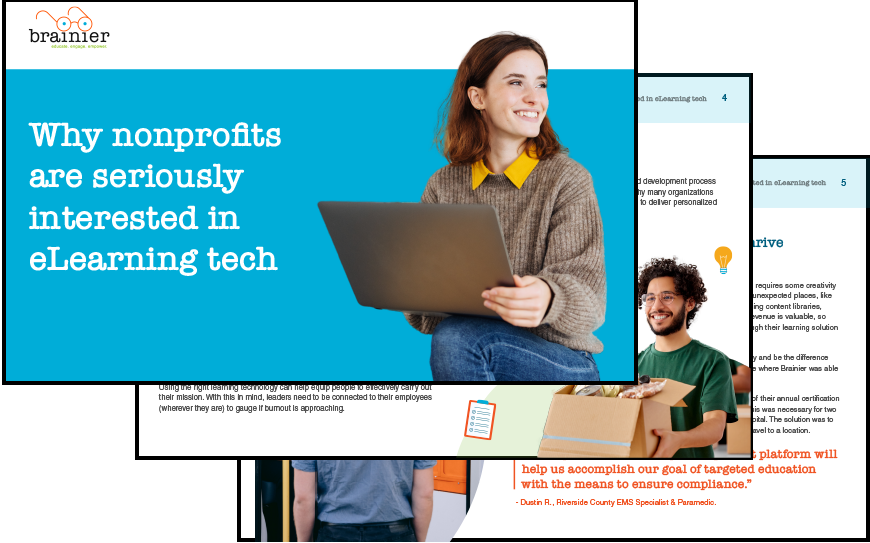 See how The Brainier LMS can help your organization contribute to employee belonging with a personalized demo.