Your Guide to Personalizing the Learning Experience
A 2023 Brandon Hall Group Research Summary
Organizations are increasingly looking at personalizing the learning experience to achieve their broader organizational goals through learning and development. This approach puts the learner first and can help improve employee engagement and talent retention by providing the "what's in it for me" that may have been missing from the experience.
To shape the learner experience, L&D leaders must be able to create and deliver these contextual, personalized learning paths at scale. Learning paths are in demand to develop new skills and refine current ones, lay out career paths, retain top talent, develop leaders, and drive business growth. Applying this approach to hundreds or thousands of learners requires powerful and accessible technology.
Brainier has teamed with The Brandon Hall Group to create this 2023 Research Summary.
In this research summary, we focus on how organizations can make progress toward personalizing the learning experience. Topics include:
The current state of Learning and Development
Complexities to the process
Questions to consider
Strategy suggestions to avoid common mistakes
How The Brainier LMS can help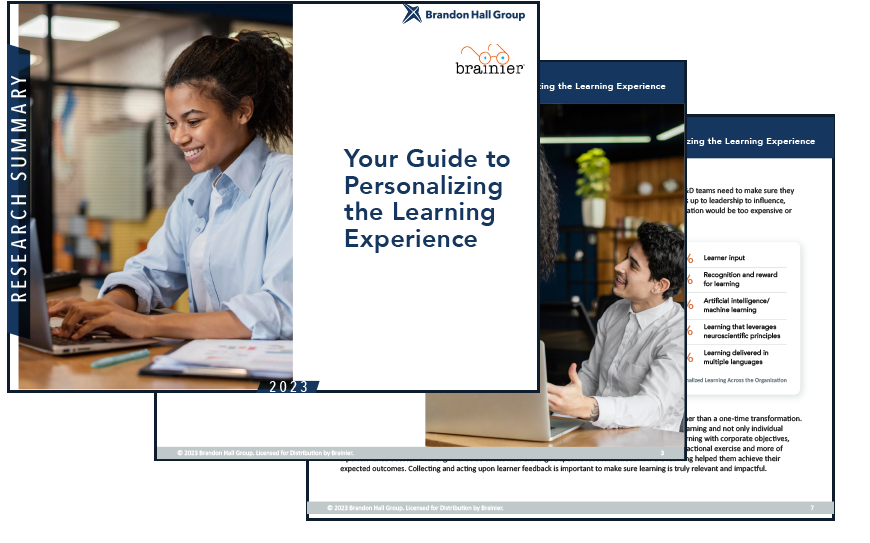 See how The Brainier LMS can help your organization contribute to employee belonging with a personalized demo.