Think Like A CEO: How Learning Drives Business Impact
A 2023 Brandon Hall Group Research Summary
Learning and development leaders face the perennial challenge with linking learning measurement and broader business objectives. For many organizations, the metrics on learning effectiveness have been for the sake of improving its own process. But L&D doesn't exist in a vacuum. The impact learning has throughout the organization is increasingly a curiosity for C-suite.
In this research summary, more than half of the respondents state that they have linked learning to business outcomes, and as a result, are now seen as a strategic business partner. Simultaneously, nearly half stated that they lack the budget, tools, and time to deliver that level of analysis and map learning activities to business change. This study features market research and surveys that illustrate where a sampling of the L&D industry is succeeding and falling short.
Brainier has teamed with The Brandon Hall Group to create this 2023 Research Summary.
In this research summary, we focus on how organizations can make progress toward deeper analysis of learning objectives and the role they play in driving business impact. Topics include:
The current state of learning measurement
Complexities to the analytical process
Key Questions to consider
Strategy suggestions to avoid common mistakes
How The Brainier LMS can help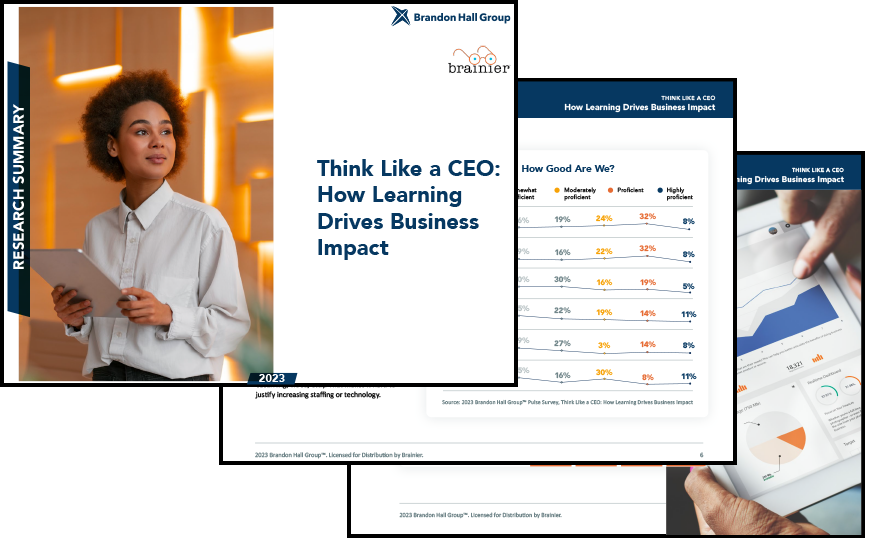 See how The Brainier LMS can help your organization contribute to employee belonging with a personalized demo.