Accelerating Growth and Belonging for All
How Learning Can Contribute to a Culture of Belonging
Your organization's approach to Diversity, Equity, and Inclusion matters, and has for a long time. In recent months, contributing to an employee's sense of Belonging is proving to be massively important. Belonging is one of the fastest growing influences on how your employees and prospective employees, customers, partners, and others view the organization. This plays an increasingly large role in their decision to pursue a role with the organization or to leave.
This eBook provides guidance on how learning and development can and should play a role to influence how employees experience an organization's DEI&B. This eBook makes a case for how and why learning and development can be an agent for shaping the culture of an organization. Learning can contribute to a sense of employee belonging by creating a culture of engagement, opportunity within the organization, and productivity. Ultimately, supporting employee belonging can make great strides toward employee retention.
In this eBook, we focus on a few key issues around Belonging:
Tying Belonging to Strategic Talent Outcomes
A Belonging self-assessment guide
Opportunity checklist for ways to improve
Community building
Creating space to respond to changes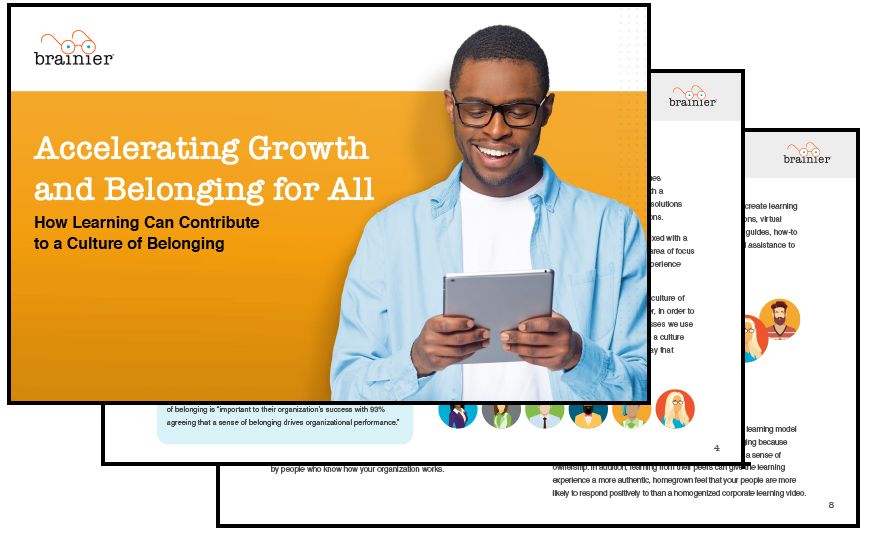 See how The Brainier LMS can help your organization contribute to employee belonging with a personalized demo.