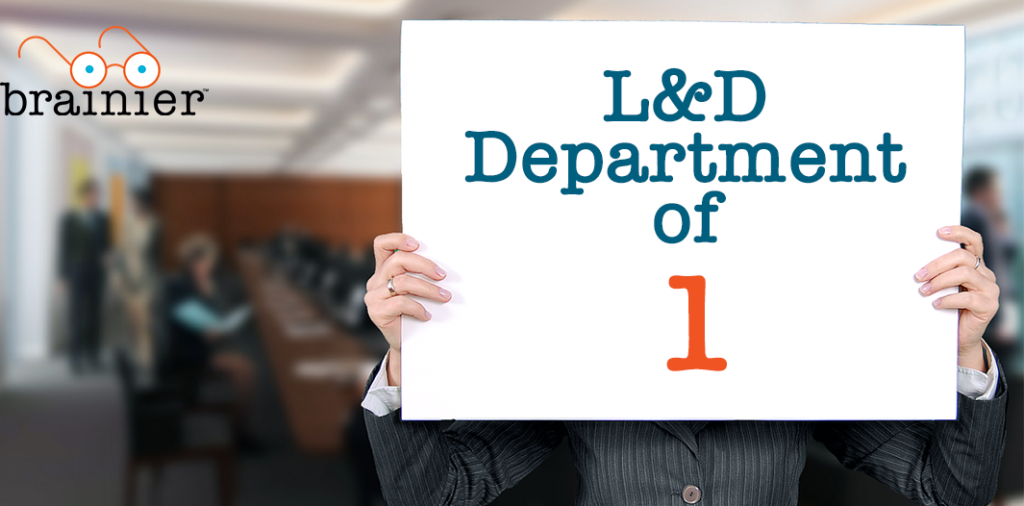 For anyone that has found themselves as a department of one in the workplace, the feelings are usually the same: precious autonomy punctuated by endless administrative duties and "some day" lists. Many learning and development leaders are accustomed to this role as the progression of powerful work-science tech champions efficiencies. This often reduces roles for L&D departments as software platforms allow many of the tasks to be automated or delivered en masse.
But, what about the person that is tasked with running it all? How can that person effectively manage an entire organization's L&D needs without the constant feeling of drowning? To answer these questions, we reached out to a Brainier client with 1,500+ learners, but just one central administrator. With roughly one thousand users in the US and more abroad, keeping up with a global workforce requires collaboration. Here are 4 and a half ways that "department of 1" learning leaders can find help in accomplishing their goals.
1. Knowing When And What To Buy
An age-old dilemma in executing learning programs is acquiring the necessary content. The options frequently boil down to creating or buying. Though each have their merits and limitations, the consensus is to avoid as much wheel-reinvention as possible. Despite every organization's inherent differences, there are many commonly sought courses. While it's not exactly time-wasted to pour over course libraries from multiple vendors, it's nowhere near an effective use of time either. Brainier has relationships with industry-leading content providers that can recommend and curate specific content bundles.
2. Creating Learning Content
Custom learning content often has the greatest relevance for learners. Unfortunately, it often requires some human capital. Content authoring is table stakes for modern L&D platforms to publish and distribute their own content. Having a software license and a working knowledge of a learning content creation platform is essential to enabling custom content. An instructional designer is one of the many hats that learning leaders must often wear. Existing materials like presentation slides, videos, and recordings of meetings can be upcycled into valuable learning content.
Many learning events have switched to a virtual setting to accommodate an increasingly remote workforce. Common among the most popular video conferencing platforms is the ability to record the session. This is an opportunity that should not be wasted, as the cost is essentially free and the file often lives in the cloud. These recorded sessions can easily become learning content for users to take at a convenient time or to reference at a later date.
Simple administrative tasks can deliver important results. Learner engagement is heavily influenced by how easy it is to find the right learning content. Consider how content is named and tagged with keywords in the LMS. This Brainier customer labels each course with the department that uses it as part of their learning track. They also make their entire custom content library and learning tracks available to every department so employees could get a sense of the skills and aptitude necessary to be successful in other parts of the organization. This has helped to reduce turnover in areas where people felt they could be better utilized without leaving the company.
3. Empowering Managers
Managers at every level can play a part in the learning process. They can access learning analytics for their direct reports in the LMS. This can be a tremendous asset for tactical reasons. Local managers can help to motivate learners to complete assigned training with the at-a-glance view of learning analytics. Deputizing local managers to monitor learner progress can help create a culture of learning and reduce administrative duties. Admins can also set up auto-generated reports to keep managers informed of stragglers as well as high-performers. Along with reporting, local managers can perform check-ins with employees to monitor learning progress and provide feedback within the system.
The hiring process is another opportunity to involve the fellow stakeholders in a new employee's success. The importance of the onboarding experience has been sufficiently praised. However, this is truly a time to seek the guidance of other managers for their L&D recommendations for new hires. Speak with the hiring manager or talent acquisition specialist to understand if the new employees may need to quickly close skills gaps. This is also a time for L&D to contribute to broader organizational goals and initiatives like developing soft skills or a renewed investment in diversity, equality, and inclusion efforts.
4. Making L&D Visible
Keeping learning top of mind can be tough, especially with so many data streams to manage. Ways to keep learners informed of relevant L&D messages is always changing. Email alerts about new or overdue training are commonplace for many clients. The learner homepage is also laid out in such a way to optimize the message: assigned, overdue, and completed training, suggested content, social learning, etc.
A favorite tool in the LMS for this Brainier client is the "company news" feature that can billboard new and upcoming events for any and all groups. This can help shine a light on meeting or training event sign-ups, new content available, and learning initiatives in play. Each group can receive a customized feed for relevant information. Such is the case for learners in the same organization but in different geographic locations. Changes to learning content are often necessary to find relevance in different countries, languages, and cultures.
Other touches for L&D activities can come through other company-exclusive social channels like an intranet or private social media groups. This could be a place where learners are informed of upcoming training events and pushed to the LMS to sign up or discover learning content. Within the LMS is the messaging features where local managers can be updated on L&D news and events to mention at a weekly stand-up meeting. Once again, keeping local managers informed and involved on learning progress can reinforce the importance of learning.
Bonus ½ – The LMS as a Planning Tool
People adapt the LMS to their business objectives in many ways. One Brainier client often brings in guest speakers to present to specific teams and functions. They also hold company meetings with open invitations to employees. For this, they use the LMS to manage sign-ups. This informs the organization on strategic planning with data on the size or amenities for the room or venue needed. It also helps to gauge interest in the topic or speaker, as well as gets users accustomed to accessing and engaging with the LMS.
The world of L&D is definitely growing more complex, especially as the workforce is changing shape. This will continue to present new challenges to learning leaders and opportunities for work-science software to provide solutions. Learning and development will undoubtedly be called upon to help lead the way forward. Brainier is here to help make organizations drive real results with better organizational development.