January 13, 2020 – MINNEAPOLIS, MN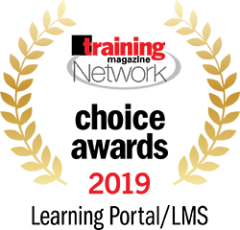 Brainier Solutions, Inc., creator of the award-winning learning management system (LMS), The Brainier LMS, announced today it was named a winner in the 2019 Training Magazine Network Choice Awards from Training Magazine. The awards are the inaugural crowd-sourced vendor awards by the organization.
The voting was held online August 22-October 31, 2019. Nearly 3,400 votes were cast by 1,253 unique respondents for 310 companies. Participants could submit a survey ballot in as many of the five categories as were applicable to them, but only one ballot per voter per category was permitted; multiple employees from the same company were permitted to vote. Winners were determined by a combination of the total number of votes received and an average weighted score based on effectiveness.
"Our mission in creating The Brainier LMS was to help organizations solve real problems through learning." said Brainier President, Jerry Cox. "And, the consideration that our customers have shown us through their votes reinforces our mission."
"We like to think of the Training Magazine Network Choice Awards as the 'Gold Standard of Recognition in the Training Profession,' says Training magazine publisher Lori Gardner. "The winners have dedicated a great deal of time and effort to developing innovative products and solutions that enable Training professionals to deliver best-in-class learning and development that promotes employee growth and organizational success."
About Training and Training Magazine Network (TMN)
Training magazine is the leading business publication for learning and development and HR professionals. It has been the ultimate resource for innovative learning and development—in print, in person, and online—over the last 50-plus years. Established in 2008, Training Magazine Network is Training's free Training and Learning and Development (L&D) member community, giving members (147,000 since 2008) 24/7 access to free training tools, Webinars, and other valuable resources. Training magazine, Training magazine Events, and TMN are owned by Lakewood Media Group.
About Brainier
Brainier is a software technology company specializing in Enterprise e-Learning Solutions, and global provider of cloud-based Learning Management Systems, online LMS platforms. Based in Minneapolis, Brainier has been helping clients discover a better approach to learning and development since 1995. Award-winning SaaS offerings include the Brainier LMS (formerly Elan) and Chameleon Cloud (adaptive e-learning framework). For more information, visit www.brainier.com. Brainier Solutions, Inc. is part of BI WORLDWIDE, a global employee engagement agency that uses the principles of behavioral economics to produce measurable results for its clients. BIW continues to bring best-in-class solutions to its global and regional customers. For more information, visit www.biworldwide.com.