March 5, 2020 – MINNEAPOLIS, MN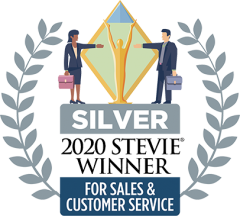 Brainier, creator of the award-winning learning management system, The Brainier LMS, was presented with a Silver international Stevie® Award at the 14th annual Stevie awards for sales and customer service. Brainier won for Customer Service Department of the Year – Computer Software – Up to 100 employees.
This win marks the fifth consecutive year that the company has received a customer service Stevie® Award
"Maintaining this high standard of customer care has been a high priority for us as Brainier has grown so much over the last year," said Jenny Ellingen, Vice President, Customer Experience & Marketing Services, Brainier. "We've taken on more clients than ever before and expanded our ongoing dialog with customers to better understand how the LMS can help them achieve their business goals."
Brainier is the only LMS company honored with a Stevie® Award in the Customer Service Department of the Year – Computer Software – Up to 100 Employees category.
"Being honored as a Stevie® award winner is of tremendous value when asking a potential client to trust in your product and the people behind it," said Jerry Cox, Brainier President. "And, the validation of the Stevie® Award, we believe, helps to explain our commitment to customer support that we offer to every Brainier customer."
About The Stevie® Awards
Stevie® Awards competitions receive more than 12,000 entries each year from organizations in more than 70 nations. Honoring organizations of all types and sizes and the people behind them, Stevie® Awards recognize outstanding performances in the workplace worldwide. For more information, visit StevieAwards.com.
About Brainier
Brainier is an award-winning SaaS company specializing in enterprise eLearning solutions, and global provider of cloud-based learning management systems. Based in Minneapolis, Brainier has been helping clients discover a better approach to learning and development since 1995. Award-winning SaaS offerings include The Brainier LMS and Chameleon Cloud (adaptive e-learning framework). For more information, visit www.brainier.com. Brainier Solutions, Inc. is part of BI WORLDWIDE, a global employee engagement agency that uses the principles of behavioral economics to produce measurable results for its clients. BIW continues to bring best-in-class solutions to its global and regional customers. For more information, visit www.biworldwide.com.