February 26, 2019 – MINNEAPOLIS, MN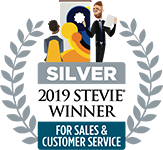 Brainier, creator of the award-winning learning management system (LMS), announced today it has won a Silver international Stevie® Award for Customer Service Department of the Year – Computer Software – Up to 100 employees.
This win marks the fourth year in a row that the company has received a customer service Stevie® Award.
"Each year, we strive to find new ways to improve the level of support we provide for our customers," said Jenny Ellingen, vice president, Customer Experience & Marketing Services, Brainier. "Advanced methods of tracking and exhaustive surveys have helped, but we find that the greatest tool our customer experience team possesses is empathy."
Taking notice of Brainier's ability to meet its customers' needs despite logistical challenges, one judge gave this feedback: "…Brainier seeks to understand customer requirements and deliver services that are responsive to diverse customer needs."
Brainier is the only company in its industry to win a Stevie® Award in the Customer Service Department of the Year – Computer Software – Up to 100 Employees category.
"As a leader in the LMS market, we recognize that the strength of our products is important, but the excellence of our service standards is crucial." said Jerry Cox, CEO, Brainier. "And, being a Stevie® Award winner for the fourth, consecutive time is exemplary of the dedication and skill our teams possess to carry out our vision."
About The Stevie Awards
Stevie® Awards competitions receive more than 10,000 entries each year from organizations in more than 60 nations. Honoring organizations of all types and sizes and the people behind them, Stevie® Awards recognize outstanding performances in the workplace worldwide. For more information, visit StevieAwards.com.
About Brainier
Brainier is a software technology company specializing in Enterprise e-Learning Solutions, and global provider of cloud-based Learning Management Systems, online LMS platforms. Based in Minneapolis, Brainier has been helping clients discover a better approach to learning and development since 1995. Award-winning SaaS offerings include the Brainier LMS (formerly Elan) and Chameleon Cloud (adaptive e-learning framework). For more information, visit www.brainier.com. Brainier Solutions, Inc. is part of BI WORLDWIDE, a global employee engagement agency that uses the principles of behavioral economics to produce measurable results for its clients. BIW continues to bring best-in-class solutions to its global and regional customers. For more information, visit www.biworldwide.com.