February 22, 2019 – MINNEAPOLIS, MN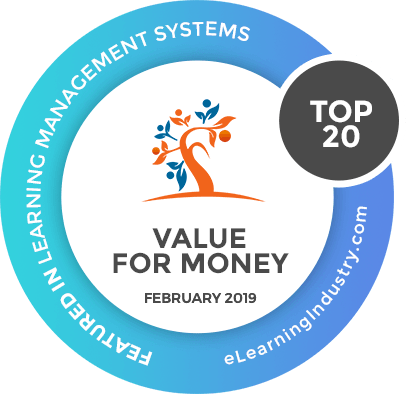 Brainier Solutions, Inc., creator of the award-winning learning management system (LMS) The Brainier Knowledge Solution, announced today it has been named as a Best Value for Money Learning Management System for Small Businesses by eLearningIndustry.com.
Selection to the Top 20 Value for Money LMS Companies was based on the following criteria:
Overall Cost based on specific parameters of use
Features of the LMS software based on 27 common elements
Perceived Usefulness by clients based on reviews
Company size and growth potential
"According to user reviews on eLearning Industry, Brainier Knowledge solution is well-famed for being a user-friendly LMS solution with a helpful and trustworthy support team," said eLearningIndustry Founder, C. Pappas. "If you also consider their attractive pricing, it would be fair to say that Brainier has the complete package."
About The "Best Value for Money" List
Results are based on both the pricing policy regarding the specific pricing scenario for small business clients, as per eLearningIndustry.com's request, and then authenticated with user reviews on elearningindustry.com.
For more information, visit https://elearningindustry.com/directory/elearning-software/brainier-knowledge-solution.
eLearningIndustry.com Contacts
Sofia Konstantzou, Social Media Manager
+30 (698)-343-4124
sofia@elearningindustry.com
About Brainier
Brainier is a software technology company specializing in Enterprise e-Learning Solutions, and global provider of cloud-based Learning Management Systems, online LMS platforms. Based in Minneapolis, Brainier has been helping clients discover a better approach to learning and development since 1995. Award-winning SaaS offerings include the Brainier LMS (formerly Elan) and Chameleon Cloud (adaptive e-learning framework). For more information, visit www.brainier.com. Brainier Solutions, Inc. is part of BI WORLDWIDE, a global employee engagement agency that uses the principles of behavioral economics to produce measurable results for its clients. BIW continues to bring best-in-class solutions to its global and regional customers. For more information, visit www.biworldwide.com.