October 11, 2010 – CORONA, CA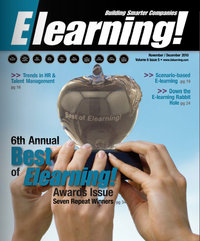 Elearning! and Government Elearning! magazines, the industry voices of the enterprise learning and workforce technology market, announced today the finalists of the Best of Elearning! Awards. Readers and professionals from both the private and public sector cast ballots for the best solutions providers across 20 product categories. Winners for each category will be revealed at the upcoming Elearning! Summit, slated for November 4th , 2010.
"The Best of Elearning! Awards program formalizes the informal "word-of-mouth" referrals practiced in our industry. According to our survey, 85% of professionals have personally recommended a learning solution to a colleague over the past 12 months. And, 61% agreed that award recognition impacted their buying decision," cites Catherine Upton, group publisher of the Elearning! Media Group.
This year, the Elearning! Magazine Group received 1,730 nominations, consistent with last year's program, making each category very competitive. Sixty-seven individual products are honored, of which 18% are new to their category. "These awards continue to recognize innovation and user satisfaction across a growing number of solution providers," reports Jerry Roche, editorial director of the Elearning! Magazine Group.
About the Voting
Readers nominated and voted for products and solutions via Elearning! Media Group's online ballot. This year's ballot featured one new category: Best Video Capture, Production, Publishing. All ballots were cast between August 1st and September 30th , 2010. Each ballot was reviewed and validated by the editorial team. All vendor ballots were voided.
Each product named is honored for excellence, and the top vote-getter is named as the winner. "Every finalist is a winner in the Best of Elearning! Awards. Given the high volume of votes and the number of nominated products, every one of these 67 solution providers should be proud to be honored for excellence," concludes Catherine Upton, Group Publisher, Elearning! Media Group.
Award Winners Announcement
The Best of Elearning! Award winners will be announced at the Elearning! Summit on November 4th, 2010. "The Elearning! Summit audience wants to hear from users, see demos of the products, and ask questions of the vendors. The Elearning! Summit provides this opportunity to all participants," says Upton. To learn more about the Summit, visit: http://events.unisfair.com/index.jsp?eid=630&seid=31
Every honoree will also be featured in Elearning! magazine and Government Elearning! magazine publishing in December 2010. "Not only will readers of the issue see what products are leaders in each category, but they can read personal testimonials from real-world users of these winning products," reports Roche.
Elearning! Media Group is owned by B2B Media Group LLC. Elearning! Media Group consists of thirteen media products including: Elearning! Magazine, Government Elearning! Magazine, eMagazines, e-mail newsletters, Alerts, web sites, Elearning! Summit, Enterprise Learning! Summit, Expo & Conference. Elearning! Media Group serves the $160 billion enterprise learning market. In combination, these brands reach over 2 million executives, practitioners and professionals all evaluating, deploying or implementing enterprise learning and workplace technologies across their organizations each year. To learn more, visit: 2elearning.com and gov.2elearning.com