September 19, 2012 – CARY, NC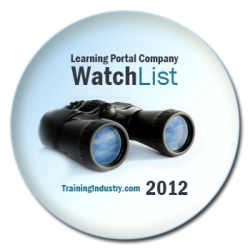 TTN's new Élan Learning Platform is getting industry attention – even before the official release of the product. Scheduled for official release on October 8, 2012 after extensive Beta testing, TTN's newest product, which features an all-new architecture, promises to be an immediate industry leader. The backbone of the Élan platform is a Social Layer which completely transforms every aspect of enterprise learning by connecting each element. The system features over 1000 standard report options with unlimited flexibility for additional reporting. Also, the new database design provides for unprecedented customization of an individual's learning experience.
As part of our commitment to the industry and as a service to our community members, TrainingIndustry.com is pleased to announce our 2012 Learning Portal Companies Watch List.
Selection of this year's Learning Portal Companies Watch List was based on the following criteria:
New and innovative service offerings
Unique approach to delivering learning solutions
Commitment to improving learning through technology
Quality of initial clients
"This year's Watch List features some great learning technologies companies that are on the rise, including four that are new to the list. They may not be as large as some organizations on the Top 20, but they provide a wide range of learning portal services to their clients that depend on a high level of customization," said Ken Taylor, Chief Operating Officer of Training Industry, Inc.
"We were able to recognize a number of exciting and innovative companies that are beginning to solidify their places in the learning technologies marketplace," said Doug Harward, Chief Executive Officer of Training Industry, Inc.
Training Industry, Inc. Contacts

Ken Taylor, COO
919.653.4992
ktaylor@trainingindustry.com

Erin Miller, Marketing Manager
919.653.4986
emiller@trainingindustry.com
About Brainier
TTN is now Brainier. Brainier is a wholly owned subsidiary of BI Worldwide, a Minneapolis-based company specializing in employee engagement. Since 1995, TTN has helped clients improve, grow and achieve company and employee goals using e-learning, in-house training and mobile-based training courses. Brainier's Learning Management System (LMS) uses full-motion video streaming with interactive learning for maximum results. Their course offerings cover a vast array of subjects including sales, management, team building, human resources, marketing, computers, and safety. Their corporate headquarters is in Minneapolis, MN. For more information, visit www.brainier.com.