Skills Development Content
Learn new or refine some basic business skills.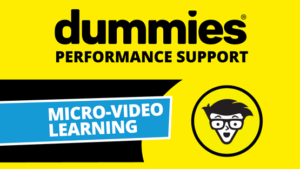 Titles Include:
Dummies: Business Writing
Writing is strategic. Help your employees learn how to communicate clearly and directly in all facets of the business world. 22 modules covering writing basics to advanced writing skills.
The dummies Performance Support Library will answer everyday computer questions with accurate, bite-sized content at the employee's exact moment of need with the most trusted how-to brand in the world.
Microsoft Office 2016:
• Access 2016
• Excel 2016
• Outlook 2016
• PowerPoint 2016
• Word 2016
• Office 2016 basics
Microsoft Office 2013:
• Access 2013
• Excel 2013
• Outlook 2013
• PowerPoint 2013
• Word 2013
• Office 2013 basics
Google
• Google Drive
• Sheets
• Slides
• Docs
• Groups
• Google+
Windows 10
• Getting Started
• Security and Settings
• Applications
Online Business Tools:
Digital Communication
Digital Marketing
Social Networking
Online File Transfer
Web Presentations
DocuSign
EchoSign
GoToMeeting
Skype
Skype for Business (Lync)
Viber
WebEx
EventBrite
Facebook
Instagram
LinkedIn
Pinterest
Social Mention
YouTube
Chatter
Jive
Yammer
Prezi
Slideshare
SmartSheet
Box
WeTransfer
Questions? Contact us.
Learn how Brainier can provide peak performance throughout your company using our unique, cloud-based learning management system.
800-487-3393 | sales@brainier.com