December 3, 2018 – MINNEAPOLIS, MN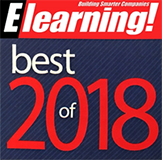 Brainier Solutions, Inc., creator of the award-winning learning management system (LMS) The Brainier LMS, announced today it has won a 2018 Award of Excellence: Learning Management System – Cloud, as part of Elearning Magazine's "Best of Elearning!".
"Thanks to the thousands of users who participate in the Best of Elearning!, the industry's exclusive users' choice awards," notes Catherine Upton, Elearning! Media Group's publisher. "The Best of Elearning! awards have become a trusted resource for learning professionals who specify solutions. We congratulate each honoree for continuing to innovate and serve this robust industry."
"This win came as a very welcomed surprise for us," said Brainier President, Jerry Cox. "It certainly highlights the success we have found in creating a valuable product and backing it with outstanding customer support."
About The "Best of Elearning!" Awards
Celebrating their 14th year, the "Best of Elearning!" awards recognizes 73 brands across 23 categories for excellence, thanks to industry professionals who took time to vote earlier this year, on an open-ended online questionnaire. These awards honor best-in-class solutions across the learning and technology marketplace.
Elearning! Media Group community members, subscribers and online community were invited to nominate their solution provider via an online ballot during June 1 to October 8, 2018. The ballot was open-ended with 27 categories stipulated. At close, the ballots were reviewed and validated. Editors verified product types and categories before counting. The top vote earners in each category were identified as finalists. Those with a 10 percent lead over all other products in a category earned category winner status. Close vote counts and runners-up earned Awards of Excellence.
For more information, visit www.2elearning.com/awards/best-of-elearning-awards.
About Brainier
Brainier is a software technology company specializing in Enterprise e-Learning Solutions, and global provider of cloud-based Learning Management Systems, online LMS platforms. Based in Minneapolis, Brainier has been helping clients discover a better approach to learning and development since 1995. Award-winning SaaS offerings include the Brainier LMS (formerly Elan) and Chameleon Cloud (adaptive e-learning framework). For more information, visit www.brainier.com. Brainier Solutions, Inc. is part of BI WORLDWIDE, a global employee engagement agency that uses the principles of behavioral economics to produce measurable results for its clients. BIW continues to bring best-in-class solutions to its global and regional customers. For more information, visit www.biworldwide.com.