December 6, 2018 – MINNEAPOLIS, MN
Minneapolis-based Brainier, a leader in innovative Learning Management System software (LMS), won a coveted GOLD award for 2018 Excellence in Best Advance in Learning Management Technology by the Brandon Hall Group. This is the third consecutive year Brainier has been awarded a GOLD award from the Brandon Hall Group.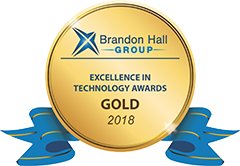 The all-new Brainier User Interface has been reimagined for the modern learner and is built with Angular and the latest web technologies. Powered by the next-generation Elan REST API, the Brainier UX features minimalistic web design with rich data visualization elements. The Brainier infrastructure was developed from scratch using more than a decade of Brainier development knowledge and experience. It incorporates the newest, leading edge technologies and techniques in database, web, and system design. This makes it easy to change the look and feel by creating themes or skins for an individualized user experience. Brainier uses the newest technologies in Angular and REST APIs throughout the platform, to provide an incredibly fast and enjoyable experience, regardless of bandwidth connection.
Brainier has capitalized on new technology, client input, and thought leadership to create a Knowledge Platform that helps companies better educate, engage, and empower their learners and produce measurable results. Contributing factors to the award are: The Brainier LMS's ease of use for both end users and administrators, regardless of the user's technical literacy, the highly customizable environment, and the global support model, featuring 14 native languages.
Click here to watch a quick Brainier LMS UX overview video.
About the Award
A panel of veteran, independent senior industry experts, and Brandon Hall Group senior analysts and executives evaluated the entries based upon the following criteria:
Product: What was the product's breakthrough innovation?
Differentiators: What makes the Brainier LMS unique and how does it differ from any competing products?
Value proposition: What problem does the Brainier LMS solve and/or what need does it address?
Measurable results: What are the benefits customers can expect as a result of using the Brainier LMS?
About Brandon Hall Group, Inc.
With more than 10,000 clients globally and 20 years of delivering world class research and advisory services, Brandon Hall Group is the most well-known and established research organization in the performance improvement industry. Brandon Hall Group has an extensive repository of thought leadership, research and expertise in Learning and Development.
About Brainier
Brainier is a software technology company specializing in Enterprise e-Learning Solutions, and global provider of cloud-based Learning Management Systems, online LMS platforms. Based in Minneapolis, Brainier has been helping clients discover a better approach to learning and development since 1995. Award-winning SaaS offerings include the Brainier LMS (formerly Elan) and Chameleon Cloud (adaptive e-learning framework). For more information, visit www.brainier.com. Brainier Solutions, Inc. is part of BI WORLDWIDE, a global employee engagement agency that uses the principles of behavioral economics to produce measurable results for its clients. BIW continues to bring best-in-class solutions to its global and regional customers. For more information, visit www.biworldwide.com.