December 6, 2018 – MINNEAPOLIS, MN
Minneapolis-based Brainier, a leader in innovative Learning Management System software (LMS), won another GOLD award for Excellence in Best Advance in Unique Learning Technology by the Brandon Hall Group. This is the third consecutive year that Brainier has won a GOLD award, and second GOLD award from Brandon Hall for 2018.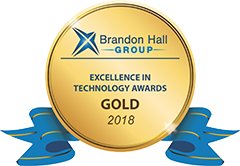 The Brainier Knowledge Studio is the latest evolution of Brainier Learning products. When compared to competition in the Training and Development market space, clients have always found that Brainier's easy-to-use, cost-effective solutions, and superior technology provide better ways to educate, engage, and empower learners. Brainier's Knowledge focus and vision takes this to a new level. It helps their learners better acquire knowledge, administrators quickly access key analytics, and helps Brainier clients exceed their Business Objectives.
The new Behavioral Evaluation learning object provides a comprehensive way to validate the knowledge that learners obtain through videos, ILT, SCORM and other learning modalities. Based on Kirkpatrick Level 3, it allows a user to perform skills that she has learned and mark completion for each skill. It also allows her to enter comments and upload an associated file (e.g. a video of her performing the skill). After her portion is completed, her manager can review her comments and files. Then, the manager can sign-off on, assign a score for, and enter notes for each skill. This entire process could also be done in person as an on-the-job training event.
Click here to watch a quick Brainier Knowledge Management overview video.
About the Award
A panel of veteran, independent senior industry experts, and Brandon Hall Group senior analysts and executives evaluated the entries based upon the following criteria:
Product: What was the product's breakthrough innovation?
Differentiators: What makes the Brainier LMS unique and how does it differ from any competing products?
Value proposition: What problem does the Brainier LMS solve and/or what need does it address?
Measurable results: What are the benefits customers can expect as a result of using the Brainier LMS?
About Brandon Hall Group, Inc.
With more than 10,000 clients globally and 20 years of delivering world class research and advisory services, Brandon Hall Group is the most well-known and established research organization in the performance improvement industry. Brandon Hall Group has an extensive repository of thought leadership, research and expertise in Learning and Development.
About Brainier
Brainier is a software technology company specializing in Enterprise e-Learning Solutions, and global provider of cloud-based Learning Management Systems, online LMS platforms. Based in Minneapolis, Brainier has been helping clients discover a better approach to learning and development since 1995. Award-winning SaaS offerings include the Brainier LMS (formerly Elan) and Chameleon Cloud (adaptive e-learning framework). For more information, visit www.brainier.com. Brainier Solutions, Inc. is part of BI WORLDWIDE, a global employee engagement agency that uses the principles of behavioral economics to produce measurable results for its clients. BIW continues to bring best-in-class solutions to its global and regional customers. For more information, visit www.biworldwide.com.