October 30, 2018 – MINNEAPOLIS, MN
In late September of this year, Brainier HQ was filled with chatter about an upcoming and quite thorough review from a leading software review site. Folks around the office weren't exactly nervous, but more curious as to how an independent scrutineer might assess the Brainier LMS. FinancesOnline completed their report and the entire Brainier staff is happy to announce that Brainier has won a pair of awards given out by the Finances Online experts: The Rising Star 2018 and The Great User Experience.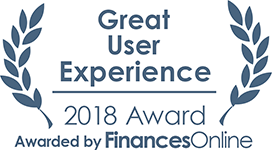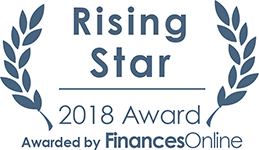 The Rising Star Award was particularly interesting for us as it is typically reserved for newcomers to the SaaS market. While the Brainier LMS is relatively new, so are many of the LMS software providers in the marketplace. Brainier Solutions has roots going back to 1995 in the learning and development arena under the original name of TTNLearning. FinancesOnline further defined the award by saying other factors include companies gaining good traction with customers by solving problems that users face, in a short amount of time. Our collective spirits were lifted even higher by this award as it tapped into a shared feeling of momentum that the Brainier brand is currently experiencing.
The Great User Experience Award is high praise for this industry, as UX taps into many of the metrics of how valuable a platform is to a user. Brainier's mission has been to provide its customers with the most intuitive UX for both learners and administrators to accomplish their learning and business objectives. Our development team does everything to make it happen.
Periodic recognition for the work we do here at Brainier HQ always feels great and we would like to express our gratitude to Finances Online for the praise, as well as including us on the list of LMS systems selected by their experts.
Read the full review here: Brainier LMS review
About FinancesOnline
FinancesOnline is a free platform that lets you find the best B2B & SaaS solutions. Read detailed online reviews prepared by industry experts. Each year we help millions of users compare products, find customer reviews and reports from experts to easily choose a solution that will let your company grow. For more information, visit financesonline.com.
About Brainier
Brainier is a software technology company specializing in Enterprise e-Learning Solutions, and global provider of cloud-based Learning Management Systems, online LMS platforms. Based in Minneapolis, Brainier has been helping clients discover a better approach to learning and development since 1995. Award-winning SaaS offerings include the Brainier LMS (formerly Elan) and Chameleon Cloud (adaptive e-learning framework). For more information, visit www.brainier.com. Brainier Solutions, Inc. is part of BI WORLDWIDE, a global employee engagement agency that uses the principles of behavioral economics to produce measurable results for its clients. BIW continues to bring best-in-class solutions to its global and regional customers. For more information, visit www.biworldwide.com.