December 15, 2016 – MINNEAPOLIS, MN
Minneapolis-based Brainier was awarded a GOLD Brandon Hall Group Excellence in Technology Award for Best Advance in Learning Management Technology. The company's Élan Enterprise Learning Platform v5.5 was awarded the highest honor.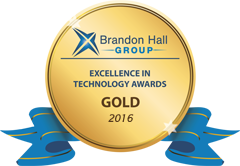 Specializing in enterprise e-learning solutions, Brainier helps to Educate, Engage, and Empower employees. Élan is a revolutionary Social, Mobile, and Global Learning Management System.
The Élan Enterprise Learning Platform v5.5 from Brainier is a feature-rich, price-leading learning management system for any organization size or configuration. When compared to the competition in the Training and Development market space, customers find Élan's ease-of-use approach, cost-effective solutions, and superior technology provides enhanced methods to engage learners, support training and development management, and exceed overall business objectives.
Because Élan was built with globalization support, customers can provide end-users with a personalized experience, no matter where they are in the world. Each learner has access to the interface in their native language, giving customers further reach and a scalable solution as they grow. Élan offers companies new ways to reach, train, and support their workforce.
Élan's ease-of-use plays an important role in eliminating the challenges often present for customers with a worldwide scope or many users with varying degrees of technical literacy. The intuitive nature of the interfaces and conscious design decisions provide customers with unparalleled solutions to these common issues. Several of Brainier's largest customers use the Élan platform to reach distributors, dealers, and channel partners without needing complex support or training.
The integrated social and collaborative learning solutions in Élan provide customers with a prominent way to connect learners without the problems often associated with generational gaps, physical locations, or even language barriers. For many customers, these tools are already proving to be an invaluable resource for their mobile workforce and next-generation leaders.
While Élan delivers simplicity on the surface, under the hood is a carefully designed and powerful multi-tier architecture, which separates the core logic from the graphical user interface, and a scalable, multiple database model that alone was thoughtfully developed by Brainier over an 18-month period.
Click here to watch a quick Elan System Overview video.

About Brainier
Based in Minneapolis, Brainier has been helping clients discover a better approach to learning and development since 1995. Products offered by Brainier include: élan LMS, Chameleon 2.0 (developed by BI WORLDWIDE) and Legacy LMS. They continue to win top industry awards. For more information, visit www.brainier.com. Brainier is part of BI WORLDWIDE, a global employee engagement agency that uses the principles of behavioral economics to produce measurable results for its clients. BIW continues to bring best-in-class solutions to its global and regional customers. For more information, visit www.biworldwide.com.