December 14, 2017 – MINNEAPOLIS, MN
Minneapolis-based Brainier has won another GOLD award for Élan's Enterprise Learning Integrations. This prestigious honor was awarded for Excellence in Technology from the Brandon Hall Group for 2017's Best Advance in Unique Learning Technology.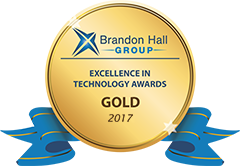 Élan is a highly integrated cloud-based learning platform from Brainier with built-in tools to seamlessly connect with other SaaS products, third party databases, and internal systems, regardless of organization size or configuration. When compared to our competition in the Training and Development marketspace, customers find the ease of use approach, cost-effective solutions, and superior technology provides them enhanced methods to engage their learners with simple ways to connect élan to other systems. This allows them to provide the best experience for their employees by reducing the number of passwords they need to manage with Single Sign-On (SSO), keep all user data updated automatically, and ensure top security, with little support required from Brainier.
Élan's various integrations are easy to setup, which plays an important role in eliminating challenges faced by organizations with a worldwide scope and users with varying degrees of technical literacy. It also allows them to be nimbler, and make changes or updates at any time.
Élan's highly customizable environment allows organizations to automatically pull data from or push data to other platforms including user profile information, divisions, departments, locations, job roles, and any other data point relevant to learning and development needs and goals. This can be done with simple bulk import tools setup on a weekly, nightly, or hourly schedule. It can also be done in real-time using élan's REST APIs. Brainier customers can setup (without Brainier assistance) file feeds or connections to many different platforms simultaneously to support their distributors, dealers, and channel partners.
For example, one Brainier customer has feeds setup from multiple HRIS platforms, each from business units in different countries. This ensures all user learning data in their global enterprise is updated and hosted in one place.
As a pioneer in software connectivity, the élan LMS was among the first to officially release full support for the groundbreaking xAPI and cmi5 specification. New cmi5 integrations provide a more predictable framework for tracking and reporting xAPI content. The evolution of this technology will enable future integrations – including those outside of the browser – to communicate with élan's Learning Record Store.
These sometime-complex integrations are made easy by Brainier's strategic partnerships and élan's powerful off-the-shelf tools.
Click here to watch a quick Elan System Integrations video.
About Brainier
Based in Minneapolis, Brainier has been helping clients discover a better approach to learning and development since 1995. Products offered by Brainier include: élan LMS, Chameleon Cloud (developed by BI WORLDWIDE) and Legacy LMS. They continue to win top industry awards. For more information, visit www.brainier.com. Brainier is part of BI WORLDWIDE, a global employee engagement agency that uses the principles of behavioral economics to produce measurable results for its clients. BIW continues to bring best-in-class solutions to its global and regional customers. For more information, visit www.biworldwide.com.