December 5, 2019 – MINNEAPOLIS, MN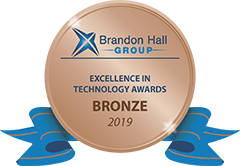 Minneapolis-based Brainier, a leader in innovative Learning Management System (LMS) software, has won a 2019 Excellence in Technology Award for Best Advance in Unique Learning Technology from the Brandon Hall Group.
Brainier has capitalized on new technology, client input and thought leadership to create a multi-tenant SaaS Learning Platform. Brainier features unparalleled learner and audience segmentation capabilities that help companies better educate, engage, and empower their learners and produce measurable results.
Built from the ground up with a multi-tenant framework and design, the proprietary Brainier data structure was carefully engineered to combat next-generation learner segmentation requirements. Brainier's industry-leading technology is a superior differentiator for customers, whether they're a small standalone business or a large international conglomerate. Brainier has grown on this foundation and has continued to enhance these powerful and flexible segmentation abilities to increase automation, ease of use, and personalize learning experiences.
Click here to watch a quick overview video of Learner and Audience Segmentation in Brainier.
About the Award
A panel of veteran, independent senior industry experts, and Brandon Hall Group senior analysts and executives evaluated the entries based upon the following criteria:
Product: What was the product's breakthrough innovation?
Differentiators: What makes Learner Segmentation in Brainier unique and how does it differ from any competing products?
Value proposition: What multi-tenant problems does Brainier solve and/or what need does it address?
Measurable results: What are the benefits customers can expect as a result of using multi-tenancy in the Brainier LMS?
About Brandon Hall Group, Inc.
With more than 10,000 clients globally and 25 years of delivering world-class research and advisory services, Brandon Hall Group is the most well-known and established research organization in the performance improvement industry. We conduct research that drives performance and provides strategic insights for executives and practitioners responsible for growth and business results. Brandon Hall Group has an extensive repository of thought leadership, research, and expertise in Learning and Development, Talent Management, Leadership Development, Talent Acquisition, and Human Resources. At the core of our offerings are a Membership Program that Empowers Excellence Through Content, Collaboration, and Community.
About Brainier
Brainier is a software technology company specializing in Enterprise e-Learning Solutions, and global provider of cloud-based Learning Management Systems, online LMS platforms. Based in Minneapolis, Brainier has been helping clients discover a better approach to learning and development since 1995. Award-winning SaaS offerings include the Brainier LMS (formerly Elan) and Chameleon Cloud (adaptive e-learning framework). For more information, visit www.brainier.com. Brainier Solutions, Inc. is part of BI WORLDWIDE, a global employee engagement agency that uses the principles of behavioral economics to produce measurable results for its clients. BIW continues to bring best-in-class solutions to its global and regional customers. For more information, visit www.biworldwide.com.