December 5, 2019 – MINNEAPOLIS, MN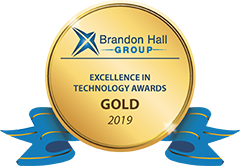 Minneapolis-based Brainier, a leader in innovative Learning Management System (LMS) software, has won a coveted GOLD Excellence in Technology Award for 2019 Best Advance in Learning Management Technology from the Brandon Hall Group.
Brainier is a pioneering and award-winning SaaS solution specializing in cloud-based learning technology. The Brainier LMS is a feature-rich, price-leading knowledge and learning management solution for any organization size or configuration. When compared to the competition in the Training & Development market space, customers find Brainier's easy-to-use, cost-effective solutions, and innovative technology provide better ways to engage learners, support training and development management, and exceed overall business objectives.
With a hyper focus on ease of use, Brainier's modern UX is faster than ever and plays an important role in eliminating the challenges often present for customers with a worldwide scope and learners with multiple levels of technical literacy. The intuitive nature of Brainier's interfaces and conscious design decisions provide customers with unparalleled solutions to these common issues.
Click here to watch a quick Brainier SaaS LMS overview video.
About the Award
A panel of veteran, independent senior industry experts, and Brandon Hall Group senior analysts and executives evaluated the entries based upon the following criteria:
Product: What was the product's breakthrough innovation?
Differentiators: What makes the Brainier LMS unique and how does it differ from any competing products?
Value proposition: What problem does the Brainier LMS solve and/or what need does it address?
Measurable results: What are the benefits customers can expect as a result of using the Brainier LMS?
About Brandon Hall Group, Inc.
With more than 10,000 clients globally and 25 years of delivering world-class research and advisory services, Brandon Hall Group is the most well-known and established research organization in the performance improvement industry. We conduct research that drives performance and provides strategic insights for executives and practitioners responsible for growth and business results. Brandon Hall Group has an extensive repository of thought leadership, research, and expertise in Learning and Development, Talent Management, Leadership Development, Talent Acquisition, and Human Resources. At the core of our offerings are a Membership Program that Empowers Excellence Through Content, Collaboration, and Community.
About Brainier
Brainier is a software technology company specializing in Enterprise e-Learning Solutions, and global provider of cloud-based Learning Management Systems, online LMS platforms. Based in Minneapolis, Brainier has been helping clients discover a better approach to learning and development since 1995. Award-winning SaaS offerings include the Brainier LMS (formerly Elan) and Chameleon Cloud (adaptive e-learning framework). For more information, visit www.brainier.com. Brainier Solutions, Inc. is part of BI WORLDWIDE, a global employee engagement agency that uses the principles of behavioral economics to produce measurable results for its clients. BIW continues to bring best-in-class solutions to its global and regional customers. For more information, visit www.biworldwide.com.