December 1, 2019 – MINNEAPOLIS, MN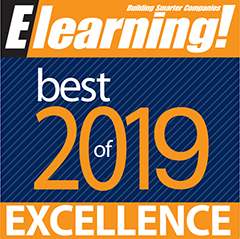 Brainier, creator of the award-winning learning management system (LMS) The Brainier LMS, announced today it has won a 2019 Award of Excellence: Learning Management System – Cloud, as part of Elearning Magazine's 2019 "Best of Elearning!".
"Thanks to the thousands of users who participate in the Best of Elearning!, the industry's exclusive users' choice awards," notes Catherine Upton, Elearning! Media Group's publisher. "The Best of Elearning! awards have become a trusted resource for learning professionals who specify solutions. We congratulate each honoree for continuing to innovate and serve this robust industry."
"This award is especially meaningful to the staff at Brainier," said Brainier President, Jerry Cox, "as it is direct voice of learning leaders in the market. For the second year in a row, we are very pleased to have made such an impact for so many people."
About The "Best of Elearning!" Awards
After 15 years, the Best of Elearning! Awards are stronger than ever, honoring 59 individual products across 19 categories. The Best of Elearning! Awards program remains the industry gold standard for excellence. These exceptional brands represent the best-in-class of enterprise learning solutions available in today's marketplace. Thank you to the thousands of users who nominated and voted for this year's Best of Elearning!
The Best of Elearning! Awards program is the exclusive Industry Users' Choice Award, whereby learning professionals vote via online ballot for best-in-class solutions. Eighty-five percent of professionals have personally recommended a learning solution to a colleague over the past 12 months, and this awards program formalizes this personal recommendation process. Award recognition is important for buyers, as 61% agree that award recognition impacts their buying decision, according to Elearning! Media Group's research.
For more information, visit www.2elearning.com/best-of-elearning.
About Brainier
Brainier is a software technology company specializing in Enterprise e-Learning Solutions, and global provider of cloud-based Learning Management Systems, online LMS platforms. Based in Minneapolis, Brainier has been helping clients discover a better approach to learning and development since 1995. Award-winning SaaS offerings include the Brainier LMS (formerly Elan) and Chameleon Cloud (adaptive e-learning framework). For more information, visit www.brainier.com. Brainier Solutions, Inc. is part of BI WORLDWIDE, a global employee engagement agency that uses the principles of behavioral economics to produce measurable results for its clients. BIW continues to bring best-in-class solutions to its global and regional customers. For more information, visit www.biworldwide.com.