December 22, 2015 – MINNEAPOLIS, MN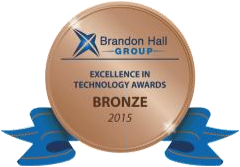 Minneapolis-based TTNLearning has been awarded a Brandon Hall Excellence in Technology Award for Best Advance in Unique Learning Technology for innovative features in the Èlan Enterprise Learning platform.
The multi-tenancy feature is an advanced technology in Èlan, which provides users in a digital learning environment with a state-of-the-art multi-tenancy functionality that offers businesses a simple way to manage multiple user environments as part of one robust LMS.
"We are honored to receive this award," said Jerry Cox, president of TTN. "We're happy the multi-tenancy feature has provided our customers with specific capabilities for internal and external users, administrators, and related user groups, so the overarching organization can maintain the entire LMS. The entire system brings highly sophisticated training to a variety of learners in many different types of environments."
TTN's multi-tenancy feature was judged on the following criteria:
Product innovation
Unique differentiators
Product demonstration
Value proposition
Measurable results
As well as managing multiple user environments, the Élan multi-tenancy feature offers comprehensive reporting, group and subgroup capabilities, and social learning functionality across all users in each tenancy. At the same time, the multi-tenancy feature provides clients and subsequent user groups with unique branding and individual experiences.
Entries for the award were judged by a select panel of industry professionals, including university professors, business and technology executives, and instructional designers and program developers from corporations, nonprofits and government organizations from around the globe.
TTN has been developing proprietary cloud-based learning platforms for over a decade. In addition, the company hosts a variety of online learning tools for corporations and business, including proprietary and custom courses, online courses and assessments, mobile learning, video courses, SCORM/AICC compliance courses, and opportunities for earning accredited CEUs.
About Brainier
TTN is now Brainier. Brainier is a wholly owned subsidiary of BI Worldwide, a Minneapolis-based company specializing in employee engagement. Since 1995, TTN has helped clients improve, grow and achieve company and employee goals using e-learning, in-house training and mobile-based training courses. Brainier's Learning Management System (LMS) uses full-motion video streaming with interactive learning for maximum results. Their course offerings cover a vast array of subjects including sales, management, team building, human resources, marketing, computers, and safety. Their corporate headquarters is in Minneapolis, MN. For more information, visit www.brainier.com.