February 23, 2016 – MINNEAPOLIS, MN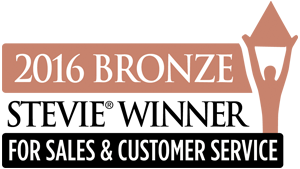 Minneapolis-based TTNLearning has been voted the public's favorite provider of customer service in software technology through the more than 27,000 votes cast in the 2016 People's Choice Stevie® Awards for Favorite Customer Service.
The worldwide public vote was conducted as part of the 10th annual Stevie Awards for Sales & Customer Service, the world's top honors for contact center, customer service, business development, and sales professionals.
About The Stevie Awards
Stevie Awards are conferred in six programs: the Asia-Pacific Stevie Awards, the German Stevie Awards, The American Business Awards, The International Business Awards, the Stevie Awards for Women in Business, and the Stevie Awards for Sales & Customer Service. Stevie Awards competitions receive more than 10,000 entries each year from organizations in more than 60 nations. Honoring organizations of all types and sizes and the people behind them, the Stevies recognize outstanding performances in the workplace worldwide. Learn more about the Stevie Awards at http://www.StevieAwards.com.
About Brainier
TTN is now Brainier. Brainier is a wholly owned subsidiary of BI Worldwide, a Minneapolis-based company specializing in employee engagement. Since 1995, TTN has helped clients improve, grow and achieve company and employee goals using e-learning, in-house training and mobile-based training courses. Brainier's Learning Management System (LMS) uses full-motion video streaming with interactive learning for maximum results. Their course offerings cover a vast array of subjects including sales, management, team building, human resources, marketing, computers, and safety. Their corporate headquarters is in Minneapolis, MN. For more information, visit www.brainier.com.