Las Vegas in early November is almost always a safe bet (pardon the pun) for HR Tech conference attendance. With the impending winter weather and a rush of year end projects, not to mention the holidays, it's a good time to see what's new in workplace technology. UKG Aspire helped to start November off with a bang and Brainier was on hand to see our common customers and shake a lot of hands with some new folks. This year was interesting for many reasons. Here are a few stray observations from the trip.
Keynote
What a tremendous "get" for this event! The one and only Dr. Brené Brown spoke with UKG Chief People Officer, Pat Wadors on the subject of showing up authentically. Truly a great conversation filled with humor, advice, reflection, hope, and honesty. If, up to this point you have lived under a rock and are unaware of Dr. Brené Brown, please see this short video: (https://www.youtube.com/watch?v=hWTRYnNwI6A)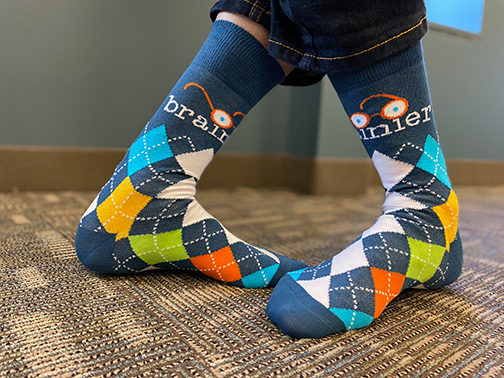 Swag
What work conference event would be complete without swag? This year, we took a different approach and decided to bring some fun, branded Brainier socks. We quickly realized 2 things: 1) people love socks, and 2) especially when they look really cool like these do. We had a hard time keeping them in stock. Other booths there had some great offerings, including a basil growing kit (to let the company GROW with you). But the little things matter, too. Having notebooks with perforated pages can make all the difference for some folks. Check out this story from last year's swag offering.
Rising Expectations for the HR Tech Stack
A theme that developed from the conversations in the Brainier booth was the need for greater functionality among the HR tech stack, but not at the price of efficiency. Customers want to use the best products and the hottest new features to meet their needs but don't wish to overly complicate the experience. The need for single sign-on is now table stakes. There is a renewed demand for meaningful (and actually useful) analytics across systems. Seamless integrations with the core HCM product are proving to be unbelievably important to buyers.
GenAI in the HCM
The buzz around GenAI and what it can do for HR is collectively raising expectations on human capital management. We had several conversations in Booth #63 from customers wanting to know just how The Brainier LMS was using GenAI. Thankfully, folks were more interested in the practical usage of the tool and less taken in by lofty promises that some have claimed in the industry.
Person to Person
The tradeshow model is changing rapidly. Covid pressed pause on in-person events but it seems that there is once again, tremendous value to putting a three dimensional face to a person, product, and organization. Brainier had so many current customers approach the booth that just wanted to say "hi" even if though they weren't learning leaders for their organization. This is always reassuring that our sales and support teams are performing at their best.
This year was undoubtedly an interesting trip to Las Vegas. The booth was busy, the food was outstanding, the partner and customer appreciation parties were a ton of fun, and the city was gearing up (again, pardon the pun) for the impending Formula 1 race down part of the strip. It was an exciting place to be and served as an excellent venue to check in on some great customers and forge new relationships. We will surely be back for Aspire 2024!