Conferences and tradeshows are replete with "swag", those company-branded promotional items intended to entice a passerby into engaging with the person attending the booth. From a high-enough vantage point, it's akin to a fishing expedition where anglers offer their best lures and bait to bring home a bounty of fish. Over the years, Brainier has played this game at events to varying degrees of success. When COVID-19 put a pause on in-person events, we all wondered how it would affect the tradeshow culture and routine. Like many organizations, Brainier has slowly ventured back into the live events circuit. The swag routine seems to be… well… routine, once again. Instead, the change was within us. We decided to do our swag program a little differently. Here's how it went:
When we booked a booth at a partner's annual user conference, our thoughts were on interacting with many of the Brainier customers we knew would be there. With only a few weeks before the event, we had to make a decision on our swag offerings. With no clear consensus on what to choose and time running out, we pivoted. Rather than order a few thousand dollars worth of plastic emblazoned with a logo, we thought about how the funds could go somewhere that we'd feel better about. So, we called a customer of ours with a great idea.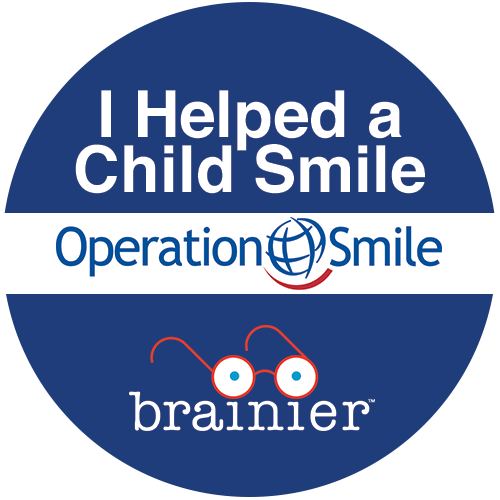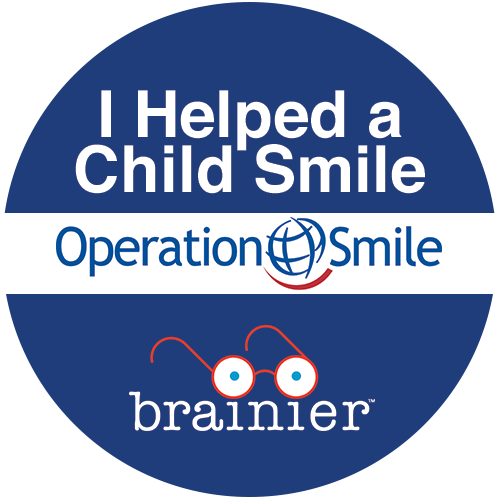 The Plan
In lieu of a pallet of trinkets and widgets, we flew to Las Vegas with a pair of posters and a few hundred stickers tucked into a carry-on bag. The stickers proudly proclaimed "I helped a child to smile". Also emblazoned on the I Voted-style sticker were the Operation Smile and Brainier logos. For every person we could recruit to wear our sticker, Brainier would donate $1 to the Operation Smile mission. (Operation Smile is a nonprofit that provides free surgeries for cleft lips, cleft palate, and other issues to children around the world.) In all fairness, we knew this strategy was a bit out of left field, and so at the eleventh hour, we assembled a cache of existing swag items, (notebooks, pens, and the like). We were prepared to pivot, but thankfully the need didn't present itself.
The Response
Doing the unexpected will deliver responses you might expect. Some people walked by the booth a little confused as to why we had posters of before and after images of children with cleft lip issues. Some people wanted to know all about the project. A couple of dozen attendees personally thanked us for our efforts and were obviously moved by the concept. After 3 days of exhibiting and explaining the alternative to swag, not a single person declined to wear the sticker. In a city not known for its altruism or charitable contributions, Las Vegas played host to a new kind of fundraising event. All told, we recruited a few hundred people to think about Operation Smile and the work they do. Brainier decided to round up and donate $500 on behalf of the attendees.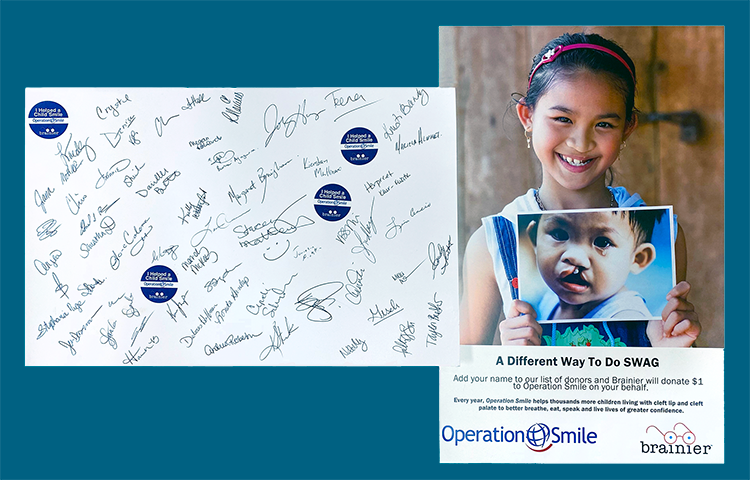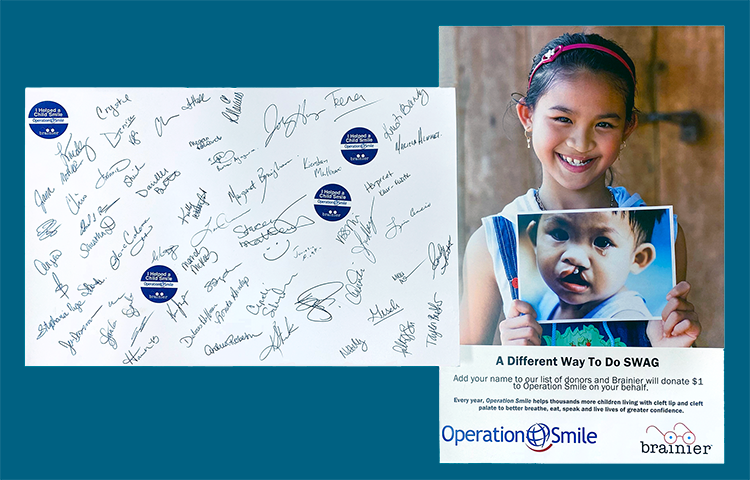 The Purpose of SWAG
On the face of it, the concept of swag is to offer a token of appreciation for your consideration of the company. Pretty simple idea, right? But, who really needs another water bottle with a company logo on it? Or, a yo-yo, mini foam football, or yet another pen? At a show this fall, we witnessed a rather dapper man in a suit grab a fistful of jolly ranchers from a vendor's fishbowl and explained, "it's ok, my kids love these!". It seems the intended recipients for most items were children. If so, who are we appealing to? Who are the real influencers in this relationship?
A Bit About Brainier's Values
There's an old stereotype about Minnesotans and it's that we're polite and practical with most things. Brainier is a Minnesota company with nearly all employees residing within 90 minutes of the headquarters. As a private company, we're accountable to ourselves for being profitable and practical with how we conduct business. We believe in doing good for the community not only with our company but collectively as employees. We are proud to work with many customers that operate in the nonprofit sector where we firmly believe in the mission, even if this reduces our profitability. One such organization is Operation Smile.
Operation Smile
While a cleft surgery can transform a child's life in as little as 45 minutes, Operation Smile is committed to addressing our patients' cleft care needs throughout their childhood and adolescence so that they can realize happier and healthier futures. A patient may need the care of many specialists who work as a team to ensure the best long-term outcomes. Volunteers around the world conduct programs, partner with hospitals, and operate care centers to deliver the ongoing care for their patients need and deserve. See more about how awesome Operation Smile is here: https://www.operationsmile.org/