September 20, 2018 – RALEIGH, NC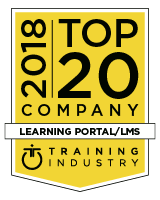 Training Industry, the most trusted source of information on the business of learning, released the 2018 Top Training Companies selections for the Learning Portal/LMS sector. Training Industry prepares Top 20 and Watch List reports on critical sectors of the training marketplace as part of its mission to continually monitor the training marketplace for the best providers of training services and technologies.
Selection to the 2018 Learning Portal/LMS Companies Top 20 and Watch List was based on the following criteria:
Quality of learning portal/LMS user and administrative features
Industry visibility, innovation and impact
Number and strength of clients
Geographic reach
Company size and growth potential
"The 2018 Top 20 Learning Portal/LMS companies are the leaders in the learning technologies market," said Ken Taylor, president of Training Industry, Inc. "These companies offer platforms that are customized to the learner experience and engage the learner across devices and through innovations like gamification. They also provide robust measurement and reporting for learning administrators and meaningful, immediate feedback for users."
"Our 2018 Learning Portal/LMS Watch List represents providers that are becoming visible and active in the learning technologies market," said Danielle Draewell, market research analyst at Training Industry, Inc. "Their ability to personalize learning systems, create an interactive interface, and reach across many industries makes them fantastic partners for developing an organization's learning management system."
Training Industry, Inc. Contacts

Scott Rutherford, Director of Marketing
919.653.4998
srutherford@trainingindustry.com
About Training Industry, Inc.
Training Industry spotlights the latest news, articles and best practices within the training industry and publishes annual Top 20 and Watch List reports covering many sectors of interest to the corporate training function. Our focus is on helping dedicated businesses and training professionals get the information, insight and tools needed to more effectively manage the business of learning.
About Brainier
Brainier is a software technology company specializing in Enterprise e-Learning Solutions, and global provider of cloud-based Learning Management Systems, online LMS platforms. Based in Minneapolis, Brainier has been helping clients discover a better approach to learning and development since 1995. Award-winning SaaS offerings include the Brainier LMS (formerly Elan) and Chameleon Cloud (adaptive e-learning framework). For more information, visit www.brainier.com. Brainier Solutions, Inc. is part of BI WORLDWIDE, a global employee engagement agency that uses the principles of behavioral economics to produce measurable results for its clients. BIW continues to bring best-in-class solutions to its global and regional customers. For more information, visit www.biworldwide.com.