August 29, 2019 – RALEIGH, NC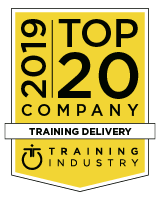 Training Industry today announced that Brainier Solutions has been named to the 2019 Top Training Companies List for the training delivery sector of the learning and development market. Training Industry, the leading research and information resource for corporate learning leaders, prepares the Training Industry Top 20 and Training Industry Watch List reports on critical sectors of the training marketplace to better inform professionals about the best and most innovative providers of training services and technologies.
Selection to the 2019 Training Industry Top 20 Training Delivery Companies List was based on the following criteria:
Value of platform features and capabilities.
Quality of analytics and reporting.
Company size and growth potential.
Quality of clients.
Geographic and vertical reach.
"This year's Top 20 Training Delivery Companies continue to develop engaging delivery platforms that provide advanced reporting and analytics capabilities that measure the impact of learning" said Ken Taylor, president of Training Industry, Inc. "These organizations accommodate all types of learners by offering robust training through a variety of modalities such as virtual, online and on-demand learning. Through a combination of strategic methods, these providers deliver training solutions that optimize employee training and performance."
"Brainier's behavioral evaluation tool combines a standard e-learning environment, the ability to demonstrate knowledge transfer and analytical data," said Danielle Draewell, market research analyst at Training Industry, Inc. "Brainier also created an off-the-shelf Salesforce integration, including an embedded dashboard within Salesforce to display learning activities and data."
Training Industry, Inc. Contacts

Danielle Draewell, Market Research Analyst
919.653.4997
ddraewell@trainingindustry.com
About Training Industry, Inc.
Training Industry presents news, articles, webinars and research reports focused on supporting the corporate training leader and offers complimentary referrals to training professionals seeking to source products or services at trainingindustry.com.
About Brainier
Brainier is a software technology company specializing in Enterprise e-Learning Solutions, and global provider of cloud-based Learning Management Systems, online LMS platforms. Based in Minneapolis, Brainier has been helping clients discover a better approach to learning and development since 1995. Award-winning SaaS offerings include the Brainier LMS (formerly Elan) and Chameleon Cloud (adaptive e-learning framework). For more information, visit www.brainier.com. Brainier Solutions, Inc. is part of BI WORLDWIDE, a global employee engagement agency that uses the principles of behavioral economics to produce measurable results for its clients. BIW continues to bring best-in-class solutions to its global and regional customers. For more information, visit www.biworldwide.com.