March 29, 2022 – MINNEAPOLIS, MN
Minneapolis-based Brainier Solutions, Inc, a leader in innovative Learning Management System software (LMS), announced Kent Walker's thirtieth anniversary with the company.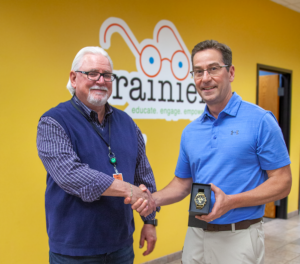 Walker began his career as a field sales representative on March 5th , 1992 with the then-called Peak Performers Network, an event based learning company focused on connecting lecturers to learners. In 1996, the company rebranded as Total Training Network, adding a physical media library product line and named Walker as Inside Sales Manager.
Walker was again promoted in 2007 to Vice President of Sales for the newly branded, TTN Learning. He was tasked with establishing a sales model for the company's second generation, cloud-based learning technology.
In 2015, the company again rebranded to "Brainier" to reflect the new technology found in The Brainier LMS, the flagship product. Walker now serves as Senior Vice President of Sales for the organization. "Throughout his career, Kent has worked hard to master the nuances of the role. He's benefitted from some great mentors and possesses tremendous leadership qualities necessary for the job, said Jerry Cox, President of Brainier Solutions. Cox continues, "He has progressed in his career to become a world-class sales manager."
Media Contacts
Kiel Welk
Brainier Solutions, Inc.
952.345.5555 x421
kwelk@brainier.com
About Brainier
Brainier is an award-winning SaaS company specializing in enterprise eLearning solutions and a global provider of cloud-based learning management systems. Based in Minneapolis, Brainier has been helping clients discover a better approach to learning and development since 1995. Award-winning SaaS offerings include The Brainier LMS and Chameleon Cloud (adaptive eLearning framework). For more information, visit www.brainier.com. Brainier Solutions, Inc. is part of BI WORLDWIDE, a global employee engagement agency that uses the principles of behavioral economics to produce measurable results for its clients. BIW continues to bring best-in-class solutions to its global and regional customers. For more information, visit www.biworldwide.com.