October 17, 2013 – CARY, NC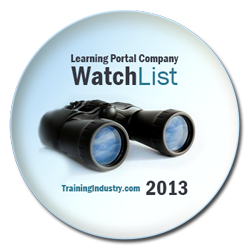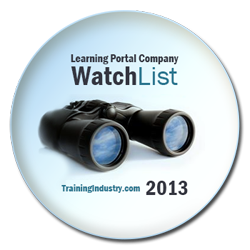 As part of our commitment to the industry and as a service to our community members, TrainingIndustry.com is pleased to announce our 2013 Learning Portal Companies Watch List.
Selection of this year's Learning Portal Companies Watch List was based on the following criteria:
New and innovative service offerings
Unique approach to delivering learning solutions
Commitment to improving learning through technology
Quality of initial clients
Ken Taylor, Chief Operating Officer, TrainingIndustry.com said, "This year's Learning Portal Companies Watch List includes both growing and mature organizations that are gaining ground in the learning technology space." He added, "Many of the companies on the watch list are developing innovative approaches and will be leading the way in years to come."
"Organizations on the Watch List are exceptional in the services they provide," said Doug Harward, Chief Executive Officer, TrainingIndustry.com. "The list is meant to spotlight the next wave of learning technology leaders and those specializing in niche areas that should be considered when buyers are researching potential partners."
Training Industry, Inc. Contacts

Ken Taylor, COO
919.653.4992
ktaylor@trainingindustry.com

Erin Miller, Marketing Manager
919.653.4986
emiller@trainingindustry.com
About Brainier
TTN is now Brainier. Brainier is a wholly owned subsidiary of BI Worldwide, a Minneapolis-based company specializing in employee engagement. Since 1995, TTN has helped clients improve, grow and achieve company and employee goals using e-learning, in-house training and mobile-based training courses. Brainier's Learning Management System (LMS) uses full-motion video streaming with interactive learning for maximum results. Their course offerings cover a vast array of subjects including sales, management, team building, human resources, marketing, computers, and safety. Their corporate headquarters is in Minneapolis, MN. For more information, visit www.brainier.com.