DECEMBER 11, 2020 – MINNEAPOLIS, MN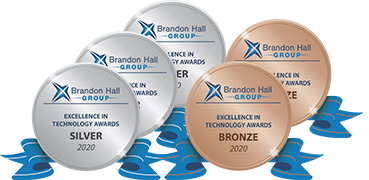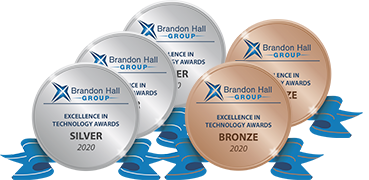 Minneapolis-based Brainier Solutions, Inc., a leader in innovative Learning Management System software (LMS), has won five Brandon Hall Group awards during the 2020 Excellence in Technology awards. Brainier's win was announced on December 10, 2020.
The Brainier LMS is a feature-rich, price-leading learning management solution for any organization size or configuration. When compared to others, Brainier customers find the platform easy-to-use, cost-effective, and offering superior technology. The Brainier LMS provides better ways to engage learners, support training and development management, and exceed overall business objectives. Brainier has capitalized on new technology, client input, and thought leadership to create a learning platform that helps companies better educate, engage, and empower their learners and produce measurable results.
"We believe the Brandon Hall Group to be the authority for analysis and commentary on learning technology. Their recognition of Brainier's technology is one of the highest honors bestowed upon a development team." said Brainier President, Jerry Cox.
Awards Won
Brainier received awards for their advancement in the following areas: learning management technology, external training, small and medium-sized businesses, instructor-led training and delivery, mobile learning technology.
Silver – Best Advance in Learning Management Technology (LMT)
Brainier's Latest Enterprise Learning Management System v9.5- Link: https://www.brainier.com/elan/enterprise/

Silver – Best Advance in Learning Management Technology for External Training
Today's Extended Enterprise and External Training with Brainier- Link: https://www.brainier.com/elan/external/

Bronze – Best Advance in Learning Management Technology for Small and Medium-Sized Businesses
Introducing Brainier Express: A Focused Training Delivery Platform- Link: https://www.brainier.com/elan/express/

Silver – Best Advance in ILT Management and Delivery
Brainier's Comprehensive ILT Management and Delivery- Link: https://www.brainier.com/elan/ilt/

Bronze – Best Advance in Mobile Learning Technology
Brainier's Mobile Learning Suite for Today's Workforce- Link: https://www.brainier.com/elan/mobile/
About the Award
A panel of veteran, independent senior industry experts, and Brandon Hall Group senior analysts and executives evaluated the entries based upon the following criteria:
Product: What was the product's breakthrough innovation?
Unique Differentiators: What makes the Brainier LMS unique and how does it differ from any competing products?
Value proposition: What problem does the Brainier LMS solve and/or what need does it address?
Measurable results: What are the benefits customers can expect as a result of using the Brainier LMS?
About Brandon Hall Group, Inc.
Brandon Hall Group is the only professional development company that offers data, research, insights, and certification to Learning and Talent executives and organizations. For the last 27 years, we have empowered, recognized, and certified excellence in organizations around the world influencing the development of over 10,000,000 employees and executives.
Our cloud-based platform delivers evidence-based insights in the areas of Learning and Development, Talent Management, Leadership Development, Diversity and Inclusion, Talent Acquisition and HR/Workforce Management for corporate organizations and HCM solution providers.
About Brainier
Based in Minneapolis, Brainier has been helping clients discover a better approach to learning and development since 1995. Brainier offers the enterprise level: Brainier LMS in addition to Chameleon Cloud (developed by BI WORLDWIDE). They continue to win top industry awards. For more information, visit www.brainier.com. Brainier is part of BI WORLDWIDE, a global employee engagement agency that uses the principles of behavioral economics to produce measurable results for its clients. BIW continues to bring best-in-class solutions to its global and regional customers. For more information, visit www.biworldwide.com.